aA
On 4 May in Chicago, the Minister of Foreign Affairs of Lithuania Linas Linkevičius participated in a solemn ceremony of unveiling of the monument to Adolfas Ramanauskas-Vanagas, Commander-in-Chief of the Armed Forces of the Union of Lithuanian Freedom Fighters, head of state of the country that was resisting its occupation. Auksutė Ramanauskaitė-Skokauskienė, daughter of A. Ramanauskas-Vanagas, and his granddaughter Inga Jancevičienė also took part in the ceremony, informs Foreign Ministry.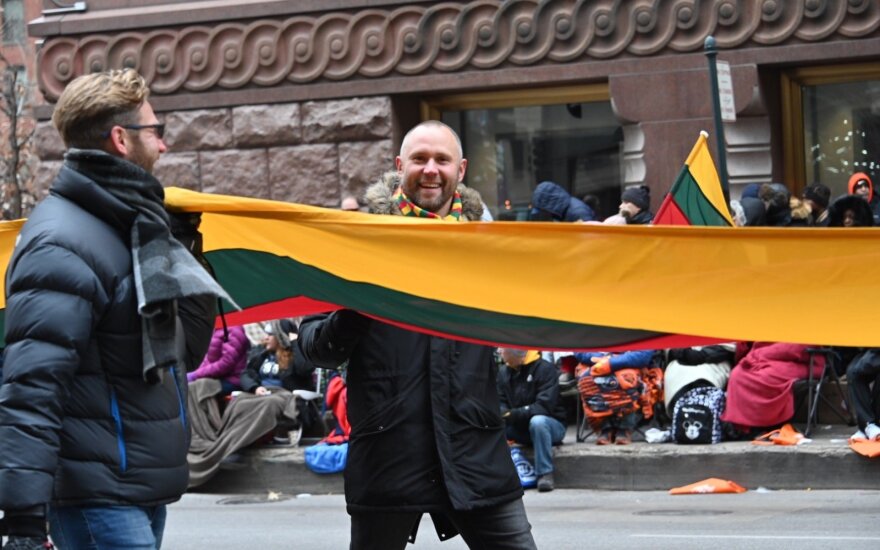 "Today is a special day. There will be a monument to our nation's hero Adolfas Ramanauskas-Vanagas at the very heart of Lithuanianness in the U.S. – the Lithuanian World Center, Lemont. This place is unique for Lithuanians. The memory of A. Ramanauskas-Vanagas will be properly cherished here. The story of the hero will be passed down from generation to generation, testifying to the heroism, love of and loyalty to his Homeland – Lithuania," said the Foreign Minister.
The idea to erect the monument was implemented jointly by the Genocide and Resistance Research Center of Lithuania, the Ministry of Foreign Affairs of Lithuania, and the Lithuanian-American Community. The author of the monument is a sculptor Jonas Jagėla.
The monument is a composition comprising a sign of the Lithuanian Freedom Fighters: a vertical flanked by two horizontal parallels transform into the image of a branched oak. It is to emphasize that the forest hid Lithuanian partisans for 10 years, while the oak in Lithuania is a symbol of strength and invincibility. The symbol was used widely during the guerilla war. The lower portion of the monument is filled with the text in both the Lithuanian and English languages. The national coat of arms of Lithuania, consisting of a knight in full armor, holding a sword and shield, mounted on a horse (also known as Vytis), is present above the text.

It is forbidden to copy the text of this publication without a written permission from DELFI.