On 16 February, Permanent Representation of Lithuania to the European Union, Embassy of the Republic of Lithuania to the Kingdom of Belgium and Permanent Delegation of the Republic of Lithuania to NATO invited Lithuania's friends to celebrate the Day of Restoration of Lithuania's Independence.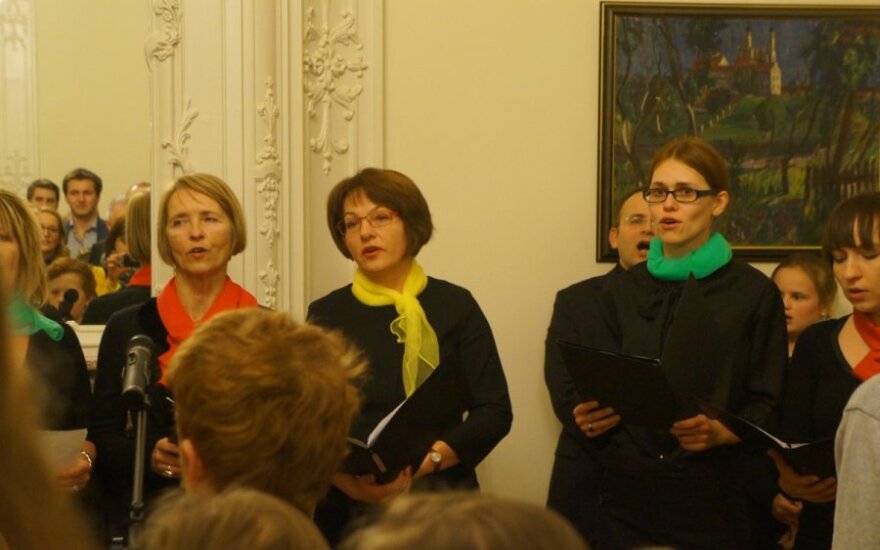 On this special occasion, the historical national flag of Lithuania was raised, Lithuanian community choir, together with 300 Lithuanian participants, sang the National Anthem. Permanent Representative of Lithuania to the EU, Ambassador Raimundas Karoblis, and Lithuanian Ambassador to the Kingdom of Belgium Gediminas Varvuolis gave congratulatory speeches. "February 16 is the most important date for the citizens of Lithuania. Our resolve on the way to independence is a fundamental value of our nation," said Ambassador Varvuolis.
Members of the Lithuanian community, honorary consuls of Lithuania in Belgium and members of the Lithuanian-Belgium Friendship Association in Flanders took part in the commemoration ceremony and reception. The evening proceeded with the opening of the painting exhibition "Vilnius. Topophilia", organised in cooperation with LAWIN/ELEX Brussels. Nine Brussels-based teams of Lithuanians, playing in Lithuanian pub quiz tournament "Battle of Wisdom", spent the rest of the evening with the game dedicated to the birthday of Lithuania.