aA
According to a legend it was the sixteen year old shepherd Patrick who laid the cornerstone of Christianity in Ireland. It was he who used a three leaf clover as a symbol for the Holy Trinity and by ringing bells made the symbol of paganism, snakes, flee Ireland. On the anniversary of his death thousands of pilgrims would climb the Croagh Patrick hill to pay respects to the saint.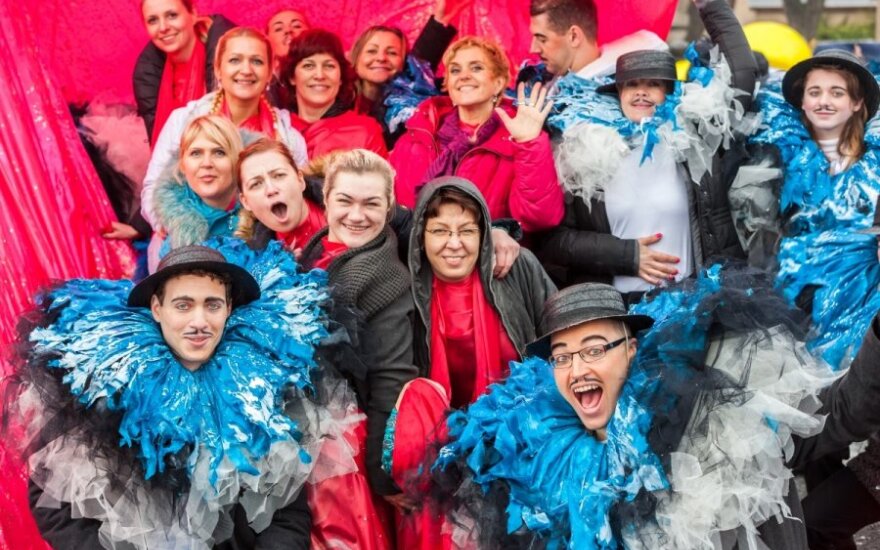 As years passed, however, the pilgrimage to the hill was replaced by a roaring colourful parade.
The 17th of March is celebrated abroad as well, but the parade in the Irish capital Dublin is the largest of them all. It is a multitude of dance, music, street theatre performances, choreography and the sheer amount of participants. There are more than 2000 participants in the parade performing for more than a half a million spectators. Believe it or not but it is quite difficult to participate in the parade. It is managed by eight organisations, while there are thousands of applications to join. The Lithuanian community in Ireland has participated in the Dublin parade for nine years now by invitation of organisation City Fusion.
City Fusion is an international art project led by Muirne Bloomer, promoting the inclusion of ethnic minorities of Ireland into the St. Patrick's Day festival in Dublin.
Year 2014 saw the beginning of a three year project. In 2014 the City Fusion performance "The Wheels of Time" took us from the past to the future, from different places and different times. It combined symbols, forgotten histories and fantasy. Everyone celebrated the Carnival which no longer had any rules. The French designer Sabine D'Argent used a system of similar forms and colours that revealed how time changes everything and at the same time nothing at all. The conception of the "The Wheels of Time" is based on the idea that everything comes and goes, innovations spring up on the mould of time.
This year the project took its next step and presented the "Present Exploded" which took our daily routine a little closer to the imaginary world filled with intensity and the beauty of our dreams. The fantasy of designer Sabine D'Argent gained momentum and created dolls which grew larger with each group, the performer's silk costumes flying in the wind immersed with the darkening colours of vibration, while Muirne Bloomer's choreography systematically connected forms and transformation, flooding with a strengthening wave of emotions and joy. "Present Exploded" is a powerful vision of our inner world.
Ireland will be celebrating a century of independence in 2016. City Fusion will be taking its final step in its three year project. We can already guess that the word "future" will definitely be part of next year's theme. But what will it be?