Lithuania's Honorary Consul J. Prunskis met with US Senators John McCain and Mark Kirk, Consul General of Ukraine Andriy Pravednyk, Consul General of Lithuania Marijus Gudynas, and Ukranian leaders to discuss the current situation in Ukraine, Lithuania, and Eastern Europe.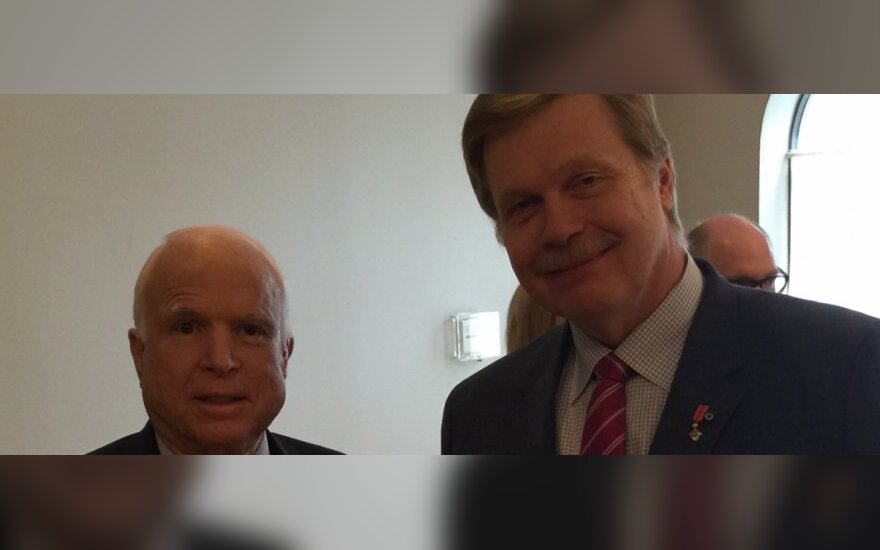 Prunskis had the opportunity to discuss several issues with McCain including the senator's recent petitions to President Obama to provide US weapons to Ukraine.
In recent visits, McCain has expressed positive feelings towards Lithuania and Foreign Minister Linas Linkevičius. The US Senator has also supported Lithuania's decision to send weapons to Ukraine.
Prunskis had an opportunity to thank the Kirk for his role in providing Lithuania with US armoured weapons being drawn from Afghanistan.
Prunskis also showed Kirk, on a map of eastern Ukraine, where his counterpart, the Honorary Consul of Lithuania in Ukraine was killed.
Ukrainian leaders briefed the group on current Russian and separatist aggressions in Ukraine.