aA
If you met Carlos Levenstein in Sao Paulo, Brazil, you might not believe that he carries a Lithuanian passport. But this Brazilian man, who has loved pickles and black bread since he was a child, does what he can to support his Lithuanian roots. He regrets not knowing Lithuanian, so he makes up for it by helping Lithuanian businesses enter the South American market.
He has helped companies like Team Gate, Trikdis, Blue Bridge Code, Novatronas and Naujoji Ringuva.
In recognition of his help to Lithuanian businesses looking to enter the distant South American market, the Brazilian has been nominated for the Global Lithuanian Awards in the Global Experience for Lithuanian Business category.
Levenstein told Delfi that his grandparents and his father came to Brazil from Radviliškis. "I don't speak Lithuanian myself. I know words like 'labas,' 'iki' and a few others. In my childhood, however, we had Lithuanian traditions. It's unfortunate that our link to Lithuania broke. During the second World War, all of the remaining members of our family there died and we lost that connection. We couldn't find any relatives after the war, but we always knew that we had come from Lithuania," he said.
Levenstein currently works at a company called MaQeo Technologies, which creates digital printing and 3d printing equipment. For the last 20 years, however, he has also been consulting with Lithuanian companies on how to enter the South American market.
Though Levenstein charges most international businessmen for his services, he offers help to Lithuanian businessmen on a volunteer basis.
He has visited Lithuania numerous times, and his newest visit will be in the end of December for the Global Lithuanian Leader awards, which will be held on 29 December. "I contacted the program's representatives and started working with companies. I now have six companies that I help," said Levenstein, who began working with Lithuanian companies in February.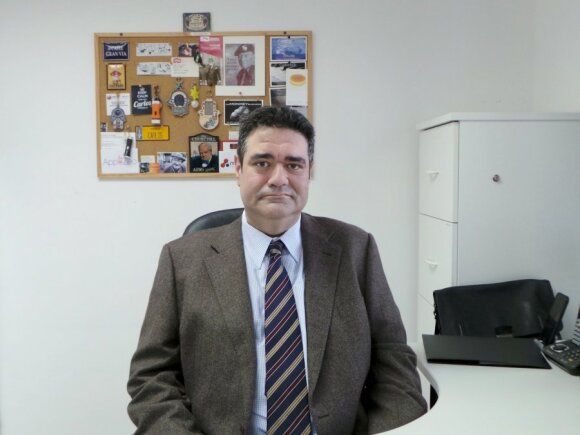 © Asmeninio albumo nuotr.
According to Levenstein, it is harder for companies to earn consumers' trust in South America. "Latin America's history is different, so the attitude towards businesses is different as well. Lithuanians have a European perspective, they don't remember how everything was when the country was occupied. I feel that Lithuanians look to the future, while here, people often look to the past, and that isn't good. You are open, and even though you've had bad experiences, you want to move forward. This is very valuable," he said, describing Lithuanian businesses.
"In Latin America, corruption and bureaucracy are barriers. It can also be hard to present a new product or solution here. I have experience with North America as well. Everything that can quickly find its market in the U.S. takes a little more time here. Here, there are more taxes, more barriers, tarriffs, and a complicated tax system," he added.
Despite the difficulties, he says that there are many opportunities to expand in the IT sector in South America. He underscored the size of the South American market; there are roughly 12 million people in Sau Paulo alone.
"The potential here is unbelievable, so that's why I want to find the right path into this market for Lithuanian companies," he said.

Griežtai draudžiama DELFI paskelbtą informaciją panaudoti kitose interneto svetainėse, žiniasklaidos priemonėse ar kitur arba platinti mūsų medžiagą kuriuo nors pavidalu be sutikimo, o jei sutikimas gautas, būtina nurodyti DELFI kaip šaltinį.