Artūras Skučas is a man with many talents. His photographic art and poetry brought him to Washington, DC, on a summery evening. He probably remains best known for his role in the Sąjūdis movement, set up to liberate Lithuania from the Soviet oppression. He also organized the Savanoriai (a militia made up of volunteers). That militia was set, in 1990, to protect the Seimas (parliament) and its leader, Professor Vytautas Landsbergis.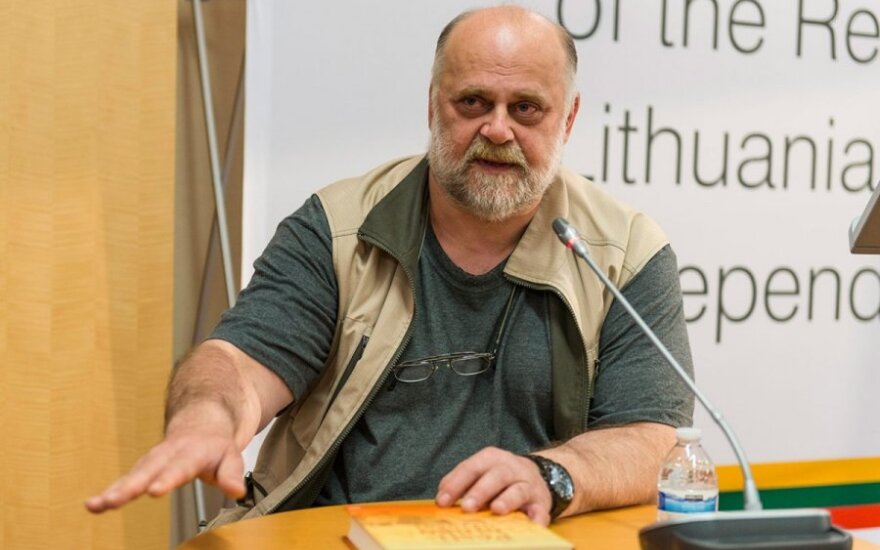 The Lithuanian Ambassador to the USA, Žygimantas Pavilionis, welcomed the audience to the Embassy. The ambassador said: "Artūras Skučas as one of the founders and humble architects of the Sąjūdis movement. They were the first defenders of our state and he is a true and devoted patriot." He added, "Artūras was an important part of Lithuania being able to regain and consolidate its independence in the turbulent post Soviet years."
Although trained as an architect, Skučas became the editor of Sąjūdžio žinios, a first non-government periodical, in the then occupied Lithuania. In the aftermath of Lithuania regaining independence, he set up the Savanoriai militia to protect the fragile new State. The militia was a real necessity in absence of an army. However, it was greatly under-resourced. "We had one gun for each eight persons, or about 50 for the 400 person strong militia," said Skučas. He was also involved in setting up the Lithuanian intelligence and armed forces.
In the audience was also Brigadier General Jonas Kronkaitis, a Lithuanian born American career soldier who returned during the late 1990s to Lithuania to become Deputy Defence Minister and advisor the Prime Minister on security issues. Brigadier General Jonas Kronkaitis eventually returned to the military as commander of the Lithuanian Armed forces. He now lives in the USA.
Artūras Skučas published two books of poetry. In 2007, he had a first exhibition of his photographic images. The dream-like photos are layered images, often in combination with sculptures. Some of the landscapes are poetic in nature, whilst others evoke traces of symbolism. A series of smaller heavy filtered images reveal the extensive technical scope of Photoshop.