aA
On Friday, the Lithuanian Ambassador to the United States, Žygimantas Pavilionis, hosted a large group of teachers who played an important role in education during the last 25 years that followed Lithuania regaining independence. Aimed to contribute to a then fledging Lithuanian educational system, APPLE was set up as an organisation in 1990 by American teachers, many with strong ties to Lithuania. Many of the teachers attending the 25th anniversary travelled from distant parts of the USA and even Canada to celebrate the success of this unique venture.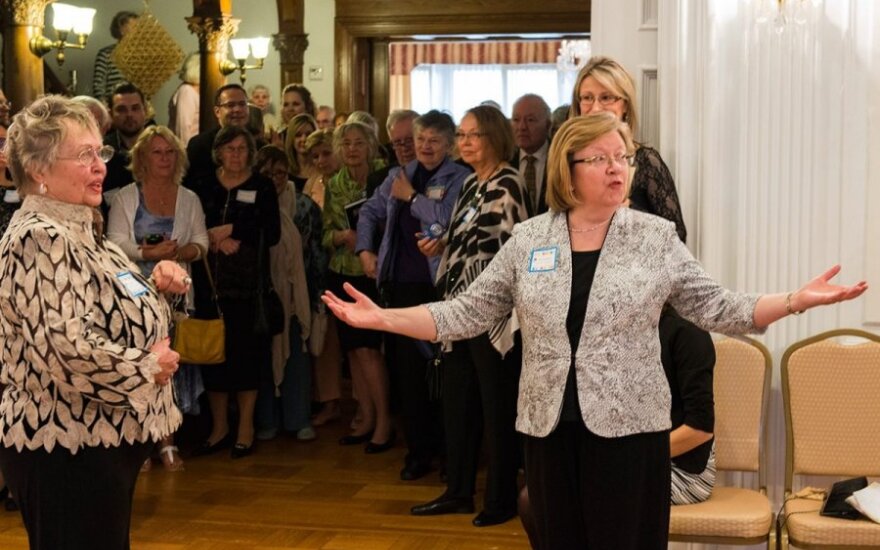 Ambassador Žygimantas Pavilionis expressed his thanks in the name of Lithuania for having "nurtured personal and human dignity - values ​​that the Soviet system deliberately attempted to destroy". The ambassador said: "We need continued engagement with our Eastern neighbours so that they also can develop future leaders that can keep on building bridges into the democratic world, just as we build these connections with the United States and Western European countries."
Jūratė Krokytė Stirbienė recounted with lots of enthusiasm the history of how APPLE was established in 1990 during the tumultuous times following the restoration of Lithuania's independence. She and Vaiva Vebra Gust brought together American Lithuanian teachers who were ready to share their expertise with a group of Lithuanian teachers. Even some teachers without Lithuanian roots joined in as the initiative gathered momentum. In total about 300 American and Canadian teachers and educators joined APPLE as they started assisting their teaching colleagues in a newly independent Lithuania. In the end more than 33,000 or about half of all Lithuanian teachers participated in APPLE programs, largely financed by US-based charitable organisations.
APPLE's main objectives were to share the American educational philosophy, expertise, educational methods and skills whilst establishing long-term relations between American and Lithuanian educational institutions. During 24 yearly summer programmes, APPLE organised seminars and workshops for groups of teachers, school administrators, librarians, social workers, special educators and even parents and others involved in Lithuania's educational system. It is a legacy that all can be proud of.