aA
However, he adds, the "Russian peace" in Ukraine means that Moscow will maintain its political influence over the country without shouldering the economic burden of rebuilding the rebel regions in eastern Ukraine.
Last Friday, after talks in Minsk, Belarus, representatives of the Kiev government and the pro-Russian separatists of Luhansk and Donetsk announced a ceasefire, while Russian President Vladimir Putin had previously said he had put together a peace plan for Ukraine, all the while denying Russia's military involvement in hostilities.
Meanwhile a group of American and Russian experts and former officials recently met on an island in Finland, Boisto. They developed a plan for a possible high-level diplomatic discussion on resolving the crisis in Ukraine, known as the 24-step Boisto plan.
This week, Ukrainian President Petro Poroshenko has announced the end of large-scale military operations in the country's rebel eastern regions, while Russia has withdrawn 70 percent of its troops from the Ukrainian territory. According to Laurinavičius, this suggests that the Boisto group is implementing its 24-step peace plan.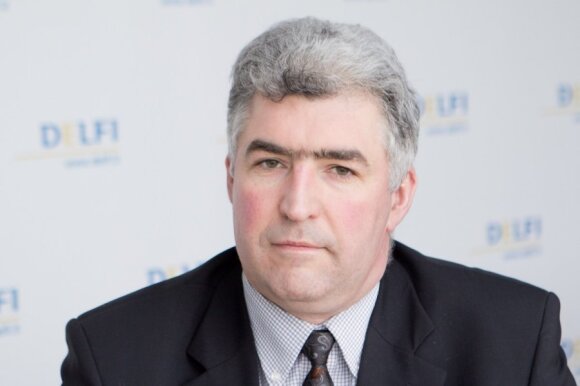 © DELFI / Valdas Kopūstas
"Poroshenko's statement proves that Ukraine and Russia are ready to talk. It is becoming increasingly apparent that not only the clan of Yevgeny Primakov, but also those clans that were previously in favour of a war 'until the end' with Ukraine [...] are now warming up to the plan of opening peace talks. Very likely, there has already been some sort of a settlement with them," Laurinavičius says.
He says that economic sanctions imposed by the US and EU on Russia might have contributed to the change of mood, yet he does not believe they were the main reason.
"The sanctions did bring results and are one of the reasons why the 'peace party' is gaining strength in Russia's internal battles. But the current scenario is an outcome of the balance of power [in Moscow] and the balance is tilting towards peace. I'd like to stress, though, that Primakov's [former Russian prime minister under President Boris Yeltsin] clan has been advocating this line since March, so one cannot claim that the position is entirely new in Russia," Laurinavičius says.
Russia to keep Ukraine under control
The Lithuanian expert insists that even though "peace" is now the buzzword in Ukraine-Russia relations, it does not mean that Ukraine's troubles are over and it will be able to resume its integration into Europe independently from Russia. Laurinavičius thinks that the peace talks can bring different outcomes, but, judging by statements from Kiev, the parties are following the Boisto group plan. Ukraine will be offered to keep Donbass as part of the country, but grant wide autonomy.
"The autonomy should be far-reaching enough to allow Donbass to decide on its relations with Russia, particularly economic relations. Russia's goal is to have at least parts of Ukraine, albeit bound by the Association Treaty with the EU, to be open to an economic union with Russia," according to Laurinavičius.
Such a settlement would allow Moscow to maintain its influence not only in Donbass, but in entire Ukraine, as Donbass, with its representatives in the national government, would serve as Russia's proxy.
"This is the fine-print that would deliver entire Ukraine to Russia. Moscow could control it politically and steer it in the geopolitical direction it wants. At the same time, Russia would not have to worry about footing the bill for rebuilding economy in Donbass - this burden would fall on Kiev. So the peace plan is nothing but a non-military plan for Russia to keep Ukraine in its grasp," Laurinavičius says.
However, he adds, there is one unpredictable variable in the equation, the separatist rebels of eastern Ukraine. Some of them are out of control even for Moscow.
Europe will accept any conditions
Laurinavičius believes that Europe is ready to accept any conditions for peace, without giving much thought to what happens after Ukraine is practically forced to accept peace on Russia's terms.
"No one is looking into the future, everyone is only too happy to end the war under whatever terms. Europe wants that more than anything else, so Ukraine is under pressure not only from Moscow, but also from Europe to accept the peace terms. The American position is similar, even though Barack Obama's administration does not officially endorse the Boisto plan," the Lithuanian expert says. "That is why they [the EU and the US] agreed and adopted the latest sanction package, but, upon the insistence of Finland which was the broker for the Boisto talks, its introduction has been postponed. And it has been postponed until Europe is assured that the current peace talks are viable and there won't be any need to implement the sanctions at all. Such is the plan - to avoid new sanctions altogether."