aA
NATO is expected to approve plans to deploy a 1,000-strong multinational battalion to Lithuania during its summit in Poland on Friday - but what are its current capabilities in Lithuania?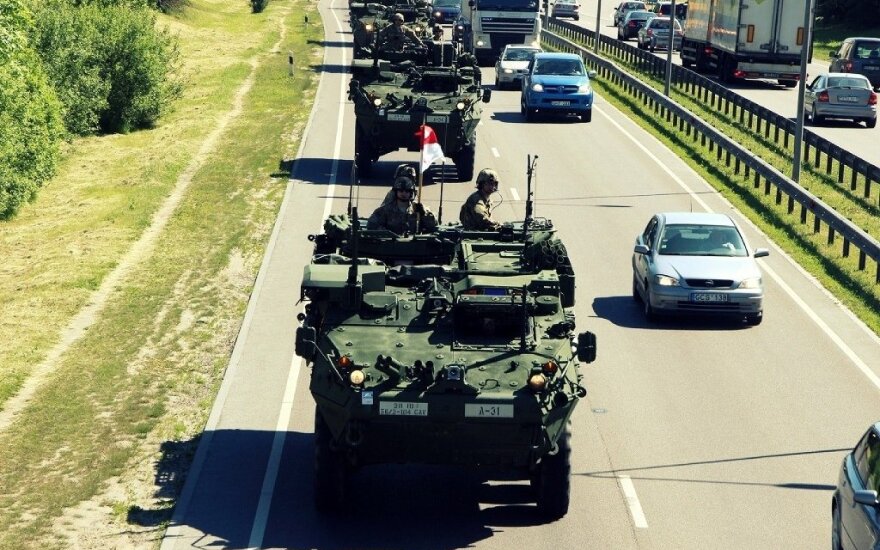 Here is an overview of NATO's current capabilities in Lithuania:
Air-policing
NATO fighter-jets, based in Siauliai, have been patrolling the skies of the three Baltic countries since 2004. The jets are scrambled several times a week on average to identify and escort Russian military aircraft flying over the Baltic Sea. The air-policing mission was expanded to Estonia following Russia's annexation of Crimea.
Collective defence plans
NATO in 2010 drew up secret plans to defend the Baltic countries against a Russian attack. There were no such plans during the first six years of the Baltic States' NATO membership as the West did not want to strain relations with Moscow.
NATO Energy Security Centre of Excellence
The NATO Energy Security Centre of Excellence has been operating in Vilnius since 2012, providing analysis on energy issues. Its staff currently comprises 14 Lithuanians and seven foreigners.
US troops and equipment
A rotational company of US troops, up to 200 soldiers, has been stationed
in Lithuania since the spring of 2014. Other allies send their troops for exercises on a non-regular basis. US military equipment, including tanks, used for training and exercises in the region has been stored in Mumaiciai, close to Siauliai, since 2015.
NATO headquarters
A small NATO headquarters, called NATO Force Integration Unit (NFIU), was opened in Vilnius in September 2015. The NFIU is under command of Danish Colonel Jakob Sogard Larsen and has around 40 military personnel, half of whom are Lithuanians and the other half are military personnel from allied nations.