Bringing Georgia closer to European but also Atlantic institutional structures continued to be one of Lithuania's most important foreign policy objectives this year. Despite Russia's creeping occupation efforts over the summer and the ramping up of its massive anti-Western propaganda machine, the small South Caucasus country is still firmly resolved to follow the Euro-Atlantic course.
However, focusing on the correct foreign policy direction proved challenging for Georgia with the provisional application of the European Union-Georgia Association Agreement and Tbilisi's determination to achieve visa-free travel with the EU, meaning that the Georgian authorities were pushed to redouble their efforts in implementing fundamental reforms.
Internally, political battles between opposition parties and the government have temporarily damaged Georgia's international image. The European Parliament and the Council of Europe have repeatedly called on Tbilisi to refrain from any politically motivated persecution while at the same time pointing at the shrinking space for civil society in the public discourse and at allegations of government meddling in media ownership cases.
During his official visit to Lithuania this autumn, Prime Minister of Georgia Irakli Garibashvili was unambiguously reminded by Lithuanian President Dalia Grybauskaitė that human rights violations and restrictions on media freedom had no place in a democratic society. If Georgia has been the frontrunner of Eastern Partnership initiative, then Lithuania has definitely been the most vocal defender of its interests.
Friendship and support between the two countries has been instrumental in progress to date, but the success of future integration with the EU lies in the hands of the Georgians themselves. "Everything depends on the political will and efforts of the national government and its effective dialogue with the opposition on the implementation of the necessary reforms," said Lithuanian President Grybauskaitė during the Georgian prime minister's visit.
With what the Georgian government has said is the increased pace of carrying forward reforms in the country, Tbilisi has been adamant that it wanted to obtain visa-free travel with the EU. Despite the decision not to grant that at the EU Riga summit this May, the Georgian government has not been deterred from pursuing further integration.
In some cases Georgia has gone beyond what had been officially required by the EU, particularly in managing to achieve progress and implement reforms in the area of the judiciary. The publication of a positive final visa liberalisation progress report, which is due this month, would be the next step before a move to a visa-free regime. A positive report would also be a gift for the ruling Georgian Dream coalition, led by former Prime Minister Bidzina Ivanishvili, ahead of the upcoming 2016 parliamentary elections.
At the same time, the EU has also been under pressure to finally provide tangible deliverables within its demanding eastern neighbourhood in order to strengthen its credibility. This has not been the case when it comes to NATO. Tina Khidasheli, Georgia's first ever-female Defence Minister appointed in May, and Speaker of the Parliament David Usupashvili (who also happens to be her husband – both from the Republican Party) were among those who actively and persistently called for a Membership Action Plan. MAP is a prerequisite, and one step from actual joining the NATO alliance.
Montenegro, an Adriatic stronghold of Russian business interests, was invited to join NATO this December, having received a Membership Action Plan back in 2009. The Kremlin did not stay silent in response to the move, calling the membership invitation to Montenegro a blow to European security and to NATO-Russia relations. Pro-Russian parties in Montenegro staged rallies in Podgorica against the move.
In Georgia, the opening of a Joint NATO-Georgia Training and Evaluation Centre by Secretary General Jens Stoltenberg this summer raised eyebrows in Moscow. For the Kremlin, which is intent on maintaining its grip on what it sees as its South Caucasus backyard, this move was perceived as a clear threat. Georgian Prime Minister Garibashvili attempted to mitigate its impact by emphasizing that the Joint Centre was not directed against any neighboring country.
This moderating tone has not been present with the new Georgian Defence Minister Khidasheli, with her at times bellicose public discourse aimed at demonstrating to Moscow that Tbilisi was not afraid of further interference. At the same time, Khidasheli has been calling upon the alliance to finally deliver on MAP, or in her own words "say that MAP is no longer needed". The Georgian government has also been pointing to Georgian troops' presence in Afghanistan as an example of the country's strong commitment towards global security and as evidence of its case for NATO membership.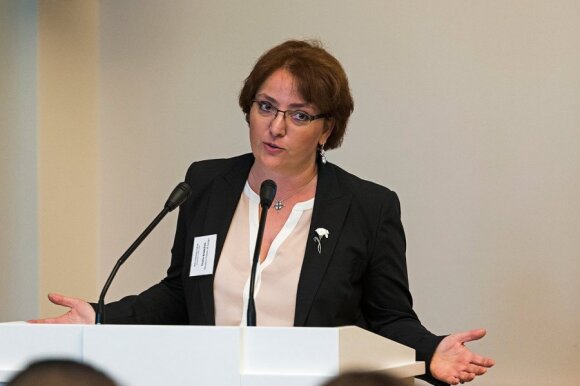 In September, Tbilisi hosted a major international conference focusing on, among other issues, security and brought together key leaders of the Euro-Atlantic community. Lithuanian Foreign Minister Linas Linkevičius was among the participants and delivered a speech encouraging Georgians to rely on strategic patience.
Linkevičius gave Lithuania as a successful example of this approach in that its applications to join NATO had been rejected multiple times in the past but the country had never lost patience or given up on NATO membership. Changing conditions, including a fundamental change in the global security environment in the aftermath of 9/11, opened the door to Lithuania's accession to the North Atlantic family in 2004. If Georgia displayed the same patience, Linkevičius was confident it would succeed in gaining entry to the alliance.
However, before Georgia can expect to hear any good news on its NATO aspirations, it will need to assure its partners for once and for all that it will continue to pursue needed domestic reforms and demonstrate that it remains strongly attached to the Euro-Atlantic course.