aA
The Lithuanian health minister has ordered a mandatory 14-day isolation at municipal premises for all returnees from foreign countries who have no coronavirus symptoms.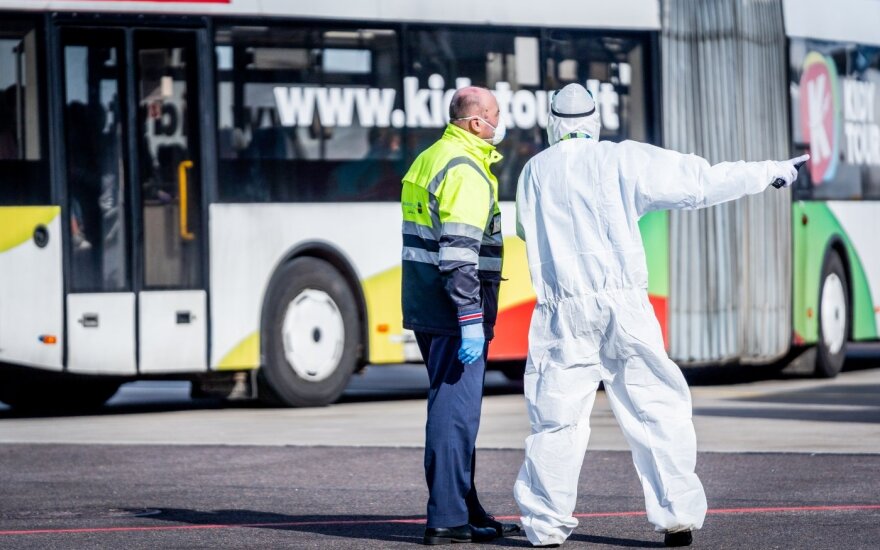 Patients with mild symptoms will also be quarantined at premises designated by municipalities, under the order signed by Health Minister Aurelijus Veryga, who heads the State Emergency Operations Center, on Monday.
Until now, returnees had to self-isolate and those infected were treated in hospital or at home.
As of Tuesday, all municipalities with international border crossing points are required to provide round-the-clock transportation of returnees from airports, seaports, and other border checkpoints to premises designated by the municipal administration of their place of residence.
Municipal administrations have also been instructed to provide suitable facilities for the isolation of people and provide them with food.
The State Emergency Operations Center is responsible for organizing the protection of these premises and public order.
Vilnius Mayor Remigijus Simasius says he has sent a letter to Prime Minister Saulius Skvernelis to protest against Veryga's order.
"(...) if the decision is not reversed, it will affect all of us and will significantly impede the fight against COVID-19," the mayor posted on Facebook.
The biggest problem is not accommodating everyone who comes from abroad, but all those displaying mild symptoms of the infection, Simasius said.
According to the mayor, this will lead to a waste of administrative and medical resources, leaving fewer resources for severely ill patients, which "will cost lives".
The measure will prompt people to avoid being tested for the virus and will lead to serious violations of children's rights, Simasius warned.
According to the mayor, the minister's order is impossible to implement, given epidemiologists' forecasts that about two-thirds of the population will contract the COVID-19 virus.
"Nearly 2 million people in Lithuania would have to be relocated from their homes," he said.
Simasius called on Skvernelis to revoke the order and "take steps to ensure that the health m minister is no longer able to make similar decisions that are not based on science and doctors' experience".
It is prohibited to copy and republish the text of this publication without a written permission from UAB "BNS".
Sekite svarbiausias naujienas socialiniuose tinkluose!