aA
Officers of the Special Investigation Service (STT) have raided homes and offices of two liberal politicians on Friday as part of a suspected bribery investigation that involved the Liberal Movement party and MG Baltic, one of Lithuania's biggest business groups.
The officers searched the home of the liberal member of Kaunas City Council Rimantas Mikaitis and the offices of the charity fund of MP Gintaras Steponavičius, according to BNS.
Suspicions of bribe taking and influence peddling were last month presented against the leader of the Liberal Movement Eligijus Masiulis, who subsequently stepped down from the party's leadership and gave up his parliament seat in order to face charges.
MG Baltic vice-president Raimondas Kurlianskis is suspected of giving a €100,000 bribe to Masiulis in exchange for "decisions favourable to the company".
Steponavičius, who is the deputy chairman of the Liberal Movement and Lithuania's former education minister, said after the suspicions had been revealed that his charity would no longer accept donations from MG Baltic.
Over the years, Steponavičius' charity has accepted over LTL 117,000 (€34,000) from different companies in MG Baltic group.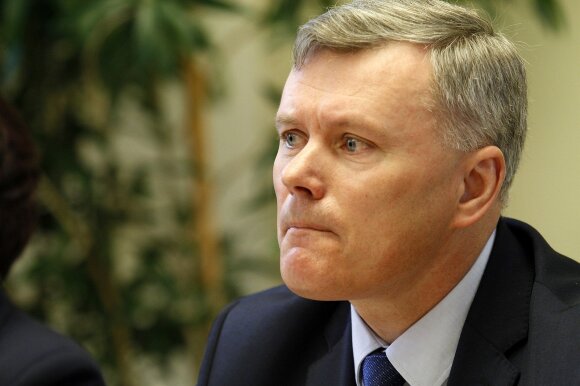 © DELFI (R. Achmedovo nuotr.)
Acting liberal leader waiting for answers
Remigijus Šimašius, the acting leader of the Lithuanian Liberal Movement, says he has not yet received information about the reported searches in the homes of the party's members, adding he was eager to get answers from the law-enforcement.
"I cannot confirm the fact of the searches, I called Gintaras Steponavičius on the phone before coming here, and he could not say where the searches were carried out or whether they had been carried out at all. I cannot confirm the fact, however, if it is true, I wish the authorities the best of luck, as I have said on a number of occasions before, as they should help finding the answers that many people were waiting for over the past month," Šimašius told journalists on Friday.
Amid the emerging reports about a larger number of Liberals involved in corruption, Šimašius emphasized the party's "zero tolerance to lack of transparency and corruption".
The Liberal Movement is due to hold an extraordinary congress on Saturday to elect a new leadership following the recent resignation of Eligijus Masiulis amid bribery suspicions.