In September of 2015, I purchased a round trip flight to Vilnius from my home town of Boston, MA (US). I had just recently become engaged to a Lithuanian girl who was now apologizing into my left ear as I confirmed the purchase online. "The weather will be awful this time of year. You will see eight weeks of rain and overcast." I clicked "confirm flight" and looked up at her. "I'm not visiting Lithuania to get a tan, I am coming to experience your culture and to meet your family."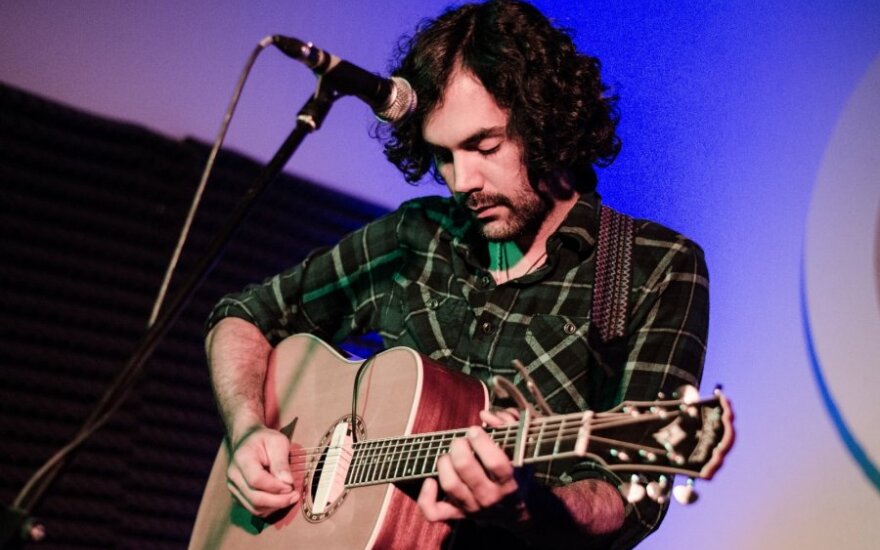 I am now sitting in her apartment in the historic old town of Vilnius seven weeks into my visit, reflecting on my experience here. It seems that everyone I have met in Lithuania wants to know about my first impressions of their country. Though the sun has not been a large factor in my experience (I can actually count on one hand how many sunny days Vilnius has had since I got here), I have thoroughly enjoyed my stay and I am quite sad about my approaching departure.
The first week in Lithuania was quite hectic for me. I flew from Boston to NYC to Moscow to Vilnius. Making my connection in Moscow was borderline terrifying. I couldn't read any of the signs - in fact, I couldn't even recognize the letters. Everyone who saw my passport frowned and threw it back at me abrasively, just pointing where to go with their nose. The airport was like a library, except there were no books. No one spoke a word. No music, no smiles.
As the tiny plane began to drop altitude over Vilnius, I felt a sense of comfort and relief. Pine forests covered the landscape as far as the eye could see. Lakes speckled the earth and the sun was actually shining quite a bit. I got off the plane and took my first deep breath of Lithuania. This airport was also silent, but very cosy. It actually looks like an opera house on account of the marble floors and chandeliers. I looked out the window and saw one small plane in a big empty parking lot. "I already like this place," I thought to myself.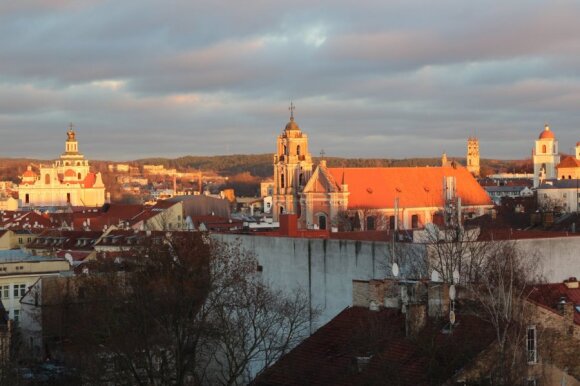 My fiancée Ieva and our best friend Gintarė took me to an Andrius Mamontovas concert at Loftas my first night in Vilnius. The girls had introduced me to his music in Montana and we listened to his material quite a bit while driving through America. I was told he was quite an icon in Lithuania and I can see why.
I noticed immediately just how old Vilnius was as we walked through the streets of Senamiestis to the venue. Preserved buildings and ruins on every corner, beautiful ancient churches towering into the sky, cobblestone streets, seemingly from forever ago. There is nothing even remotely comparable in the US to the streets of Vilnius.
The language at first was like nothing I had ever heard. Upon overhearing a conversation, I made the assumption instantly that I would not be able to grasp the language. With a little help from my friends, some flash cards and the internet, I have been able to expand my Lithuanian vocabulary to 1000+ words in under six weeks. I feel that I could be speaking at a first grade level in under twelve weeks.
Over the next couple of weeks, I managed to visit places like Trakai, Druskinikai and Nida. I am especially fond of the nature here in Lithuania and was content to spend as much time as possible exploring the marshlands, thick spruce and scotch pine filled forests, and even sand dune on the shoreline of the Baltic Sea.
© Asmeninio albumo nuotr.
Dietary/lifestyle restrictions prohibit me from eating dairy, so I was not able to eat the Kibinai that Trakai is so famous for. I did jealously watch Ieva and some friends indulge in the savoury-looking pastries while I sipped on some gira. Ieva's mother would eventually learn how to cook Kibinai without dairy products and the pastry has become a favourite of mine, especially with mushrooms. We visited the reconstructed castle of Trakai which is stocked full of Lithuanian history and is a "must visit" for all tourists. I found myself realizing just how young America is in comparison to these ancient lands of Trakai.
I strolled the aisles of Lithuania's mega grocery store "Maxima". I couldn't believe how inexpensive food and alcohol was in this country. A one-litre bottle of craft small batch beer from a local brewery cost about €1.50, an entire basket of groceries that I would spend 75 dollars on in the US cost about the equivalent of twenty US dollars. Ieva explained to me that for Lithuanians the food is expensive here relatively to the salary and natives do not consider the prices to be low.
I had to expand my wardrobe quite a bit subsequent to my arrival in Vilnius. The sidewalks of this city could at times be easily confused with a fashion show runway. I was walking around in my American rags, possibly being mistaken for homeless. Ieva explained to me that people put on their finest threads even to go to the grocery store or to go jogging. She then introduced me to Humana, a city-wide thrift store filled to the ceiling with perfectly good clothes people had tossed aside for donation. I was able to buy a wool coat, a scarf, a pair of skinny jeans, pointy shoes, and a Norwegian sweater for under fifteen euro. Now I look like a local, or at least I am dressed similar.
I play music for a living, comparable in genre to Neil Young or Bob Dylan, and my first performance in Lithuania was at Liverpool Bar. I have played several shows since then at local spots such as Būsi Trečias, 7 Fridays, Paviljonas, Geltonos Sofos Klubas, Šnekutis and others. Folks young and mature alike have been very receptive to my music and I find them to be exceptionally polite listeners.
I have one very fond memory of a young man excitedly coming up to the stage at 7 Fridays and asking me to play "Sweet Home Alabama". I started up the intro guitar part and the bar exploded in applause. I laughed so hard that I almost had to stop the song. "How do people know this ridiculous song on the complete other side of the world," I thought to myself as forty-something Lithuanians shouted the refrain along with me.
In a couple days I will fly back to Boston with a full stomach of rye bread and countless fond memories of my time here in Lithuania. I am feeling a bit melancholy about my departure but I know I will be back next year to take in more of this fascinatingly unique and charming culture. In the meantime I will tell my story of Lithuania to my American family and friends, urging them to come see for themselves this serene landscape and amiable culture that I have become so fond of.
Favourites of LT:
Scenic Nature: Neringa and Druskininkai
Beer: Varniukų
Non Alcoholic Beverage: Gira
Meal: Mushrooms in Sleeping Bag or Balandėliai
Street: Pilies Gatvė
Neighborhood: Užupis
Bar: Špunka and Šnekutis
TV Show: Gustavo Enciklopedija
Shopping: Halės Turgus
Artist: Andrius Mamontovas
www.paulcataldo.com