As Russia wields its gas weapon against Ukraine, it has cut its price to Lithuania. How did that happen? Agnia Grigas writes for Atlantic Council.

Griežtai draudžiama DELFI paskelbtą informaciją panaudoti kitose interneto svetainėse, žiniasklaidos priemonėse ar kitur arba platinti mūsų medžiagą kuriuo nors pavidalu be sutikimo, o jei sutikimas gautas, būtina nurodyti DELFI kaip šaltinį.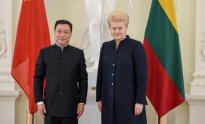 FREE
With the development of China and the continuous deepening of reform and opening up, the business...