Are you up for a taste of the traditional Lithuanian cuisine, but are not committed enough to finish an entire serving of cepelinai? Head for Pilies Katpėdėlė on Pilies Street in Vilnius.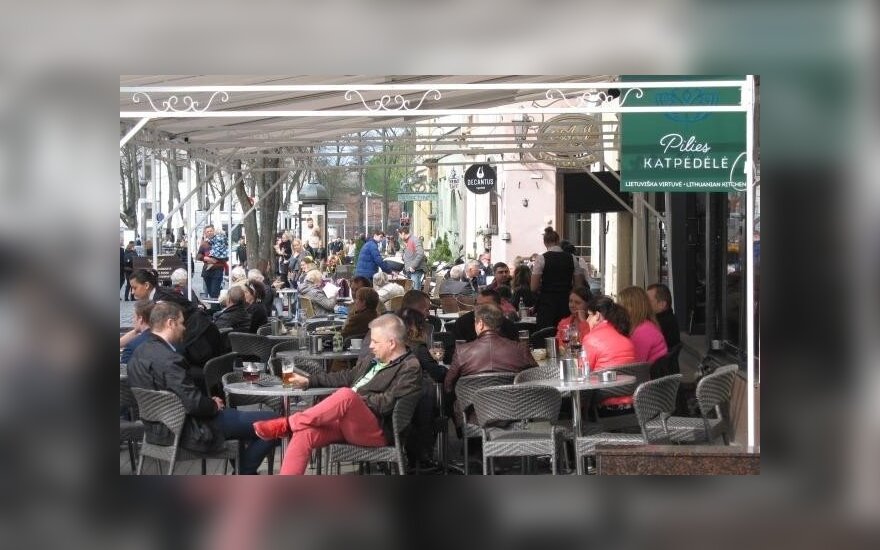 While offering a range of Lithuanian staples, including some rarer ones like the Samogitian kastinys, to the delight of my Lithuanian-cuisine-savy companions, the brilliance of Pilies Katpėdėlė is that you can order a snack-like plate with a little bit of everything: pieces of cepelinai, vėdarai, bulviniai blynai and several other grated potato dishes I don't even know the name of.
Nibbling at all of them at once, one can truly appreciate the variety despite a rather limited range of ingredients (it's just potatoes and some meat, really).
If you'd like to keep your diet light on potatoes, though, there's plenty to choose from. Šaltiena was up to my discerning companions standard, while the smell emanating from a plate of crunchy stintos (fried smelts) we were served by mistake made us almost sorry we notified about the mix-up.
The place also boasts of the biggest cepelinai in the city, offering a piece of helpful, if a tat sexist, advice in its menu that women should consider ordering half a serving.
While Cepelinai that is bigger is not always better, a neat touch was that the menu categorized food according to roughly-defined time periods -there was a category for "ancient" foods, which included the blood sausage and kastinys, and a "sleeping land" section for the soviet period that included šaltiena.
Pilies Katpėdėlė does live up to its word - by the sight of it, the enormous ground meat and potato dumpling would have almost certainly been too taxing for my male stomach, too.
Add to that the pleasant pedestrian buzz of Pilies Street, the prime tourism artery of Vilnius, which makes for a perfect setting for your Lithuanian lunch that can be as heavy or as light as you choose.
Verdict: