aA
In 2016 there were 5 537 deaths of European Union (EU) residents caused by accidental drowning and submersion. The figure has been falling each year since a peak of 6 090 deaths in 2013 and corresponds to an EU average of 1.1 deaths per 100 000 residents, announces the Eurostat.
Among the EU Member States, the highest rates recorded in 2016 were in Lithuania and Latvia, with more than 6 deaths per 100 000 residents. In contrast, the lowest rates were in Italy, Malta and Portugal (all 0.4 deaths per 100 000).
Statistics on the rates of death by accidental drowning and submersion are available by sex and indicate that in almost all countries for which 2016 figures are available, the death rates were higher among men than among women. The exception is Luxembourg, where 4 deaths by drowning were recorded in 2016, 3 of which were female.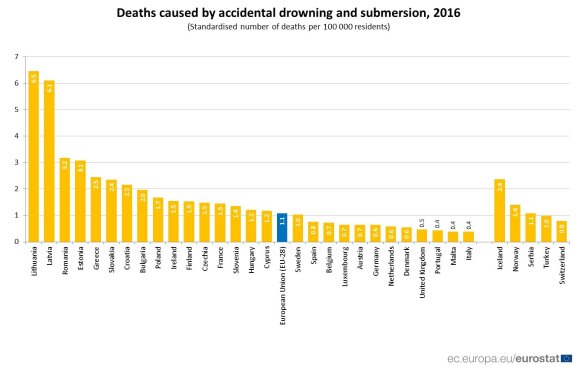 © Organizacijos nuotr.

It is forbidden to copy the text of this publication without a written permission from DELFI.