World of Dance is an international dance competition, which is the biggest event in urban dance world today. The event gathers around dancers from more than 30 countries, including Asia, Europe and USA. From this year Lithuania is in the list as well! Competition stimulates the art of urban dance to be spread and prompts enthusiasm of incredibly talented dancers from all over the world. Hundreds of participants and thousands of spectators gathers every year to watch performances and support artists that comes to represent their countries in the worldwide finals and contend for the title of the best dancer in the world.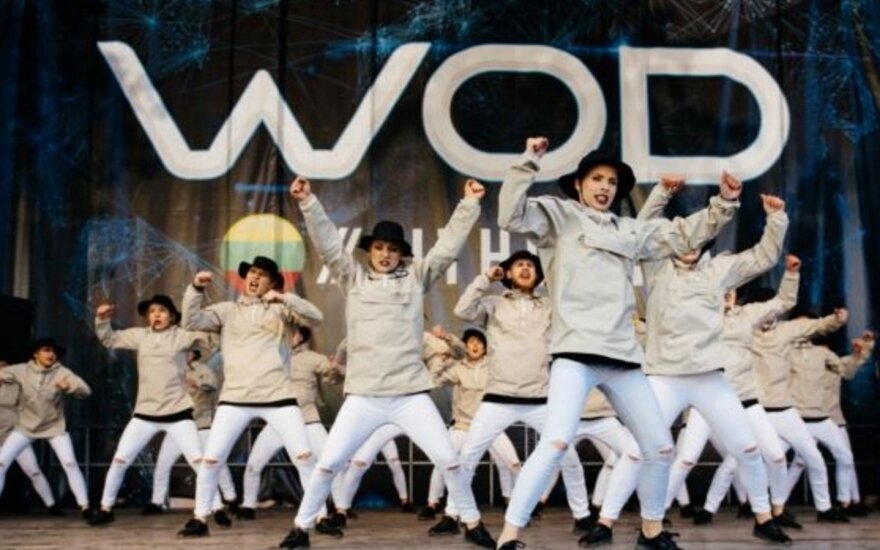 On June 3rd, for the first time in Lithuanian history World of Dance was held in Lithuania. Dancers were competing in 3 different categories and were able to get a title of the best dancer. The winning crew became "V-Team" from dance studio "Me Gusta", Kaunas, who have already been champions of Lithuania in a row of years, also winners in European contests and figuring in top 10 best dance teams of the world. By winning dancers got an honor to represent Lithuania and the Baltic states (as in the competition were competing crews from Sweden, Germany, Estonia, etc.) in the super finals of the event in USA – Los Angeles, California. The finals will take place on 22nd of July.
So far it is the biggest achievement in crew dancing of Lithuanian hip hop and young dancers would be honored to travel to Los Angeles and make the name of country famous and the nation proud. V-Team dancers truly believe they can prove that such small country as Lithuania also has talented and extremely good international level dancers.
Today V-team is trying hard to find support from government and businesses, so they could travel to the finals. Flight tickets are getting more and more expensive every day and the team is trying to hold their last hopes that their dream would come true. For now, they have collected 2520 euro – 1200 from private business and the rest from online crowdfunding where anyone can help. It is still far from their goal, which is more than 50000 euro, but they still expect to reach it and to become a part of countries historical event.
Links to more information about us and the contest:
Achievements of "V-Team"
2 times in a row V-Team - 1 place Show dance category and Grand Prix ("Streestyle")
"Lithuanian Talents" - 5 place
2 times in a row- 1 place V-Team Hip Hop Formation category ("European Cup")
Street show category – V-Team - 2 place ("European Cup")
Dovydas Girdauskas Hip-Hop Solo - 2 place ("European Cup")
Streetshow formation (Show dance) V-Team - 1 place ("European Cup")
Hip-Hop formation V-Team - 1 place ("Rise Up")
Upper division V-Team - 1 place (World of Dance Lithuania Qualifier 2017)
Danielė Sadauskaitė – Hip-Hop Solo Female - 2 place (Lithuania Open 2017m.)
Žilvinas Majauskas – Hip-Hop Solo Male - 3 place (Lithuania Open 2017m.)
Dovydas Girdauskas – Hip-Hop Solo Male - 1 place (Lithuania Open 2017m.)
3 times in a row Small group V-Team - 1 place (Lithuania Open)
2 times in a row Freedance (Show dance) V-Team - 1 place (Lithuania Open)
2 times Hip-Hop formation V-Team - 1 place (Lithuania Open 2015 ir 2017m.)
Hip-Hop formation V-Team - 2 place (Lithuania Open 2016m.)
Dovydas Girdauskas – Hip-Hop Solo - 1 place (Lithuania Open 2016m.)
Dovilė Matulytė – Hip-Hop Solo - 3 place (Lithuania Open 2016m.)
Žilvinas Majauskas – Hip-Hop Solo - 3 place (Lithuania Open 2016m.)
Gytis Jeremičius ir Dovilė Matulytė – Duo 1 place (Lithuanian Open 2015m.)
Karolis Knystautas ir Gabija Kaziūnaitė – Duo 3 place (Lithuanian Open 2015m.)
Goda Kujavskytė – Solo Female 2 place (Lithuanian Open 2015m.)
Gytis Jeremičius – Solo Male 2 place (Lithuanian Open 2015m.)
Grand prix (Dance Revolution 2015-2016m.)
2 times in a row Hip-Hop formation V-Team - 1 place (Dance Revolution 2015-2016m.)
Streetshow formation (Show dance) V-Team - 1 place (Dance Revolution 2015-2016m.)
Formation V-Team - 1 vieta ir Grand Prix (Dance Revolution 2015-2016m.)
Dovydas Girdauskas – Hip-Hop Solo - 1 place (IDO World Championship)
Dovydas Girdauskas – Solo - 3 place (IDO World Championship)
Small group V-Team - 5 place (IDO World Championship)
2 years in a row Formation V-Team - 9 place (IDO World Championship)
Gytis Jeremičius - Solo Male - 1 place (Latvia Open)
Dovydas Girdauskas – Solo Male - 2 place (Latvia Open)
Dovilė Matulytė ir Gytis Jeremičius - Duo 1 place (Latvia Open)
Gabija Kaziūnaitė ir Karolis Knystautas - Duo 2 place (Latvia Open)
Small group V-Team - 3 place (Spring Cup)
Formation V-Team - 1 place (Spring Cup)
Streetshow formation (show dance) V-Team – 2 place (Spring Cup)
Formation V-Team - 1 place (Lithuanian Cup 2014/2015m.)
Smal group V-Team - 1 place (Lithuanian Cup 2014/2015m.)
Karolis Knystautas ir Gabija Kaziūnaitė – Duo 1 place (Lithuanian Cup 2014/2015m.)
Dovydas Girdauskas – Solo 2 place (Lithuanian Cup 2014/2015m.)
Gytis Jeremičius ir Dovilė Matulytė - Duo 2 place (Lithuanian Cup 2014/2015m.)
Formation V-Team - 1 place (Lithuanian Cup 2014/2015m.)
Small group V-Team - 1 place (Lithuanian Cup 2014/2015m.)