The first refugees to arrive in Lithuania under the EU resettlement program will face real barriers in securing housing or jobs here, according to experts.
The first refugees to arrive here will be an Iraqi family of four from Greece next week. However, with government payments to refugees being cut, Ilma Skuodienė, the director of Vilnius Caritas' Foreigner Integration Program, told LRT TV that "a person – a member of the family – will have to find a job in a week when he arrives in the city, or else they will slip towards poverty".
In December, the Ministry of Social Security and Labour reduced the one-time payments for refugees resettling in a particular municipality from €456 to €204, with similar reductions to stipends for children and families as well. In half a year, the stipends will be reduced to €102. New stipend "ceilings" will ensure that families will not be able to receive any more than €510, no matter how many children they have.
These decisions have been criticized by non-governmental organizations, which claim that refugees will fall into poverty within half a year, but the Lithuanian President has said that refugees "cannot receive more than our own people".
Skuodienė has noticed a reluctance among landowners to rent apartments to refugees. "You call and ask, 'can you rent out your apartment, is it available?' 'Yes, it's available,' they answer. 'We're looking for an apartment for a foreigner,' people take this news very well – foreigners are good news. But eventually you introduce yourself as Caritas, and they ask what you have to do with foreigners, so you explain that they are refugees, that they're arriving as a family, and then the answer immediately becomes 'no.'"
Skuodienė believes that plenty of problems still remain in the system Lithuania has prepared to receive refugees; "The Labour Exchange's efficiency needs to be improved, and so does Lithuanian language educations, because without language education, integration into the labour market is impossible. The preschool education system – does it have enough spaces? The school system – are schools prepared, are they prepared to provide these children with additional intensive lessons? There are still questions that remain, but we must wait before saying whether or not we are prepared. Once the system begins working, we'll clearly be able to see certain problems."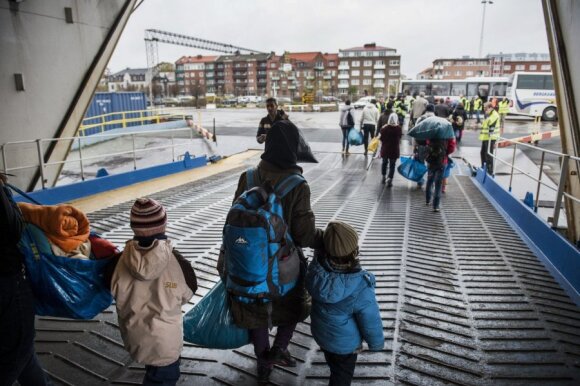 When asked whether she thought the refugees would be accepted warmly by the people in the municipalities they were sent to, Skuodienė said, "First of all, this is a value challenge for us. Do we have compassion for others? They are all people, just like us, with their own children, their own families, their own worries, their own pain and their own dreams – except that war forced them to leave their homes. There are many discussions taking place about why we look at them the way we do. One of the main ways to change this has to be education. Education has to begin in primary schools, with an understanding of the world – that there are other countries, other faiths. Later, in middle school, with history, geography, and of course, continuing on in high school."
In its 15 years of operation, Vilnius' Caritas has worked with and offered aid to various arriving refugees. There have been challenges, but Skuodienė has said that the situation has improved. "If one family arrives a month, then, with the care of every organization, municipality and institution, we can probably achieve a positive result."