aA
Vilnius city authorities began dismantling a Soviet-era structure made from Jewish headstones last week, led by the city's mayor.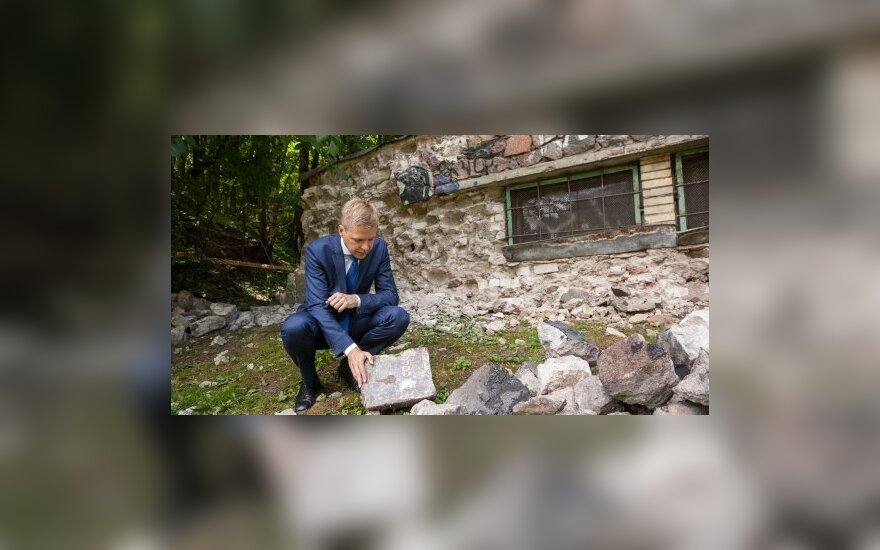 The generator building was built by the Soviet authorities of Lithuania between 1965 and 1968, when it was part of the Soviet Union, with the headstones removed from a Jewish cemetery.
"After 26 years as an independent country it is now the time to remove these stones, which are a clear mark of disrespect to our Jewish community," said Vilnius Mayor Remigijus Šimašius said. "The stones will be removed from the generator and moved to a memorial, which will be built on Olandų Street with the cooperation of Vilnius' Jewish community."
On Wednesday, Šimašius removed the first stone from the structure housing an electricity and heating generator on Olandų Street.
Smaller fragments of the gravestones will also be reburied in the cemetery and the headstones are to be moved to a memorial made from marble stones that is to be finished this fall.
Last year, Šimašius met with Faina Kukliansky, the head of the city's Jewish community, and Cultural Heritage director Diana Varnaite to discuss dismantling structures built from Jewish gravestones in Vilnius during the Soviet period as a mark of respect to the city's Jewish history.
The building is expected to be fully dismantled by August.
The Jewish Telegraphic Agency reports that last year, Lithuania's then-chief rabbi urged the country's Evangelical Reformed Church to remove Jewish headstones that were being used as stairs to a Vilnius church.
Rabbi Chaim Burshtein's call concerned a 30-foot-long staircase made out of Jewish headstones that leads to the main entrance of the church's largest building in the Lithuanian capital, on Pylimo Street. The headstones also were installed when Lithuania was part of the Soviet Union.
"We regret the deplorable state and destruction of the last remnants of the memory of Lithuanian Jewry," Burshtein told the Jewish Telegraphic Agency.
He said Lithuania "has many places built out of Jewish headstones. I think the authorities and the Jewish community need to perform thorough research and correct at least this historic wrong".
Sekite svarbiausias naujienas socialiniuose tinkluose!