aA
Lithuania is to join global celebrations of St Patrick's Day with the greening of the Vilnelė river on Saturday as celebrations kick off around the world today.
Lithuanian Prime Minister Algirdas Butkevičius congratulated Ireland on its national day of celebrations as it celebrates 100 years of independence.
"Let me use this occasion, observed throughout the world including in Lithuania, to celebrate the good relations between our two countries. Lithuania and Ireland are democracies that share common values, seeking security and welfare for our nations and the citizens of the European Union. I am convinced that ties between our countries will only become stronger," he said.
Festivities for the greening of Vilnelė River in Užupis to mark St Patrick's Day will take place on Saturday from 2pm with an almost real steamboat from Guinness' Dublin's St James gates where Guinness stout was born, along with Irish folk, rock and live music.
Original Irish stew made by Anne and Taučius from Bistro 18, Vilnius and Guinness pie from Piano Man bar and Gringo pub, and special offers from Užupio kavinė will all be available. There will also be a parade of Irish red setters and wolfhound dog breed, and a Guinness bar at bridge of Užupis with Six Nations Rugby clash between Ireland vs Scotland been shown at the bars later in the day.
Vilnius has followed the lead of Chicago in greening its river to mark the day each year. Chicago greened its river last Saturday to mark the patron saint of Ireland's day.
Google has also marked the day by creating a special St Patrick's Day doodle on its search page today.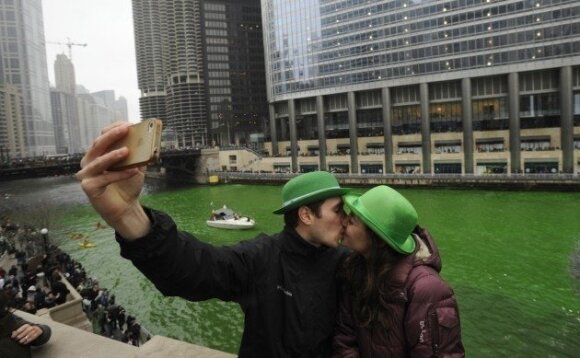 © AP/Scanpix