aA
After a successful experiment at the first session it was decided that each week's session would start with an intriguing article from a different prewar Vilna Yiddish newspaper. In addition to reading from the photocopies provided, participants will be able to view the original newspaper. The session, which lasts an hour-and-a-half total, will then move on to the literary text being read. This Sunday the circle will start reading a humorous text by Der Túnkeler, "The Dark One," pseudonym of Joseph Tunkel (1881 – 1949), a Litvak Yiddish humorist born in Bobruisk, now in Belarus.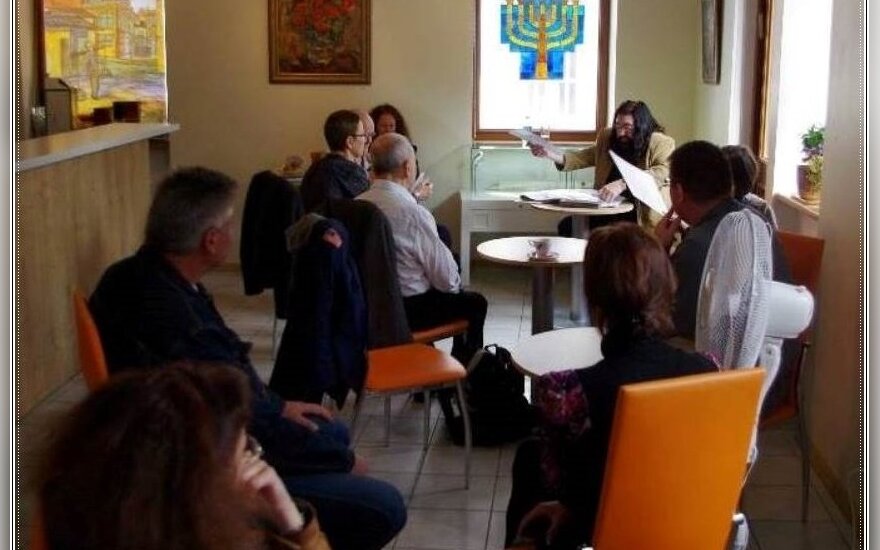 The Vilna Yiddish Literary Reading Circle is hosted at the Jewish Cultural and Information Center, a partnership project of the Jewish Community of Lithuania and the Vilnius Municipality. The second session will be held this coming Sunday, 27 September 2015, at 1 PM (1300) sharp, and further sessions will follow thereafter each Sunday at the same time. Those who wish to purchase coffee and snacks (including delicious toasted bagels!) are asked to come at least 15 minutes earlier as the session starts, in good old Litvak style, at 1 o'clock on the dot.
The instructor, Professor Dovid Katz (www.dovidkatz.net), has been volunteering to lead the circle since its inception in September 1999 for those in the Jewish community (and equally, those from all other communities in Vilnius!) who wish to develop their knowledge of Yiddish language, literature and culture. Whoever can read Yiddish participates by reading a paragraph to the best of his or her ability. Those who cannot are invited to attend and listen (listening to Yiddish is good for your health!). The text is discussed, and many other topics are discussed. The opinions may vary dramatically, but only Yiddish may be spoken. (Some years, there is a one penny fine for each non-Yiddish word!) The project continues in recent years in memory of two of its founding members, Dr. Sheine Sideraitė (1921—2005) and Dr. Izraelis Lempertas (Yisroel Lempert, 1925—2012), and one of its latter-year stalwarts, Meilach Stalevich whom the Jewish community lost almost a year ago (1923—2014). The project's administrative coordinator is Julius Norwilla.