aA
On Good Friday, a reopening of the free little library took place in Bernardinai Garden (Bernardinų sodai). Located close to the children's playground, the little library specialises in children's books. At a time that libraries all over are facing tough competition from the Internet, little libraries reflect community spirit at work.
Sekite svarbiausias naujienas socialiniuose tinkluose!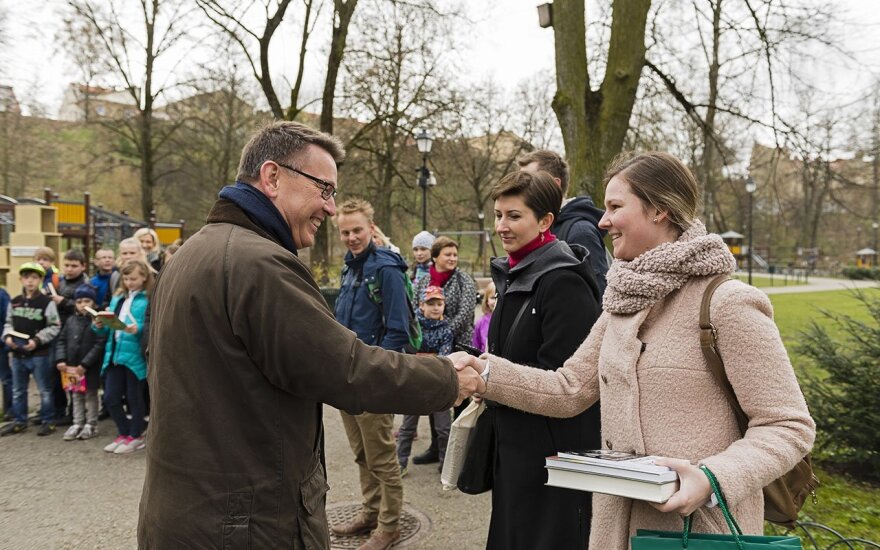 Over the winter, the Vytautas Gečas' design structure had fallen victim to vandalism. Offers had come in from several, including Neringa Jurčiukonytė at Inovatoriu Snėlis to help with the repair. Finally, the Dutch Ambassador to Lithuania, Bert van der Lingen, ensured that the little library was properly restored.
The Bernardinai library opened in June, last year, just prior to the annual Cultural Night festival (Kultūros naktis). The Embassy of The Netherlands had commissioned Vytautas to design this little library. Mr. Gečas is a young Lithuanian designer and studied at the Design Academy in Eindhoven, the Netherlands. Mr. Gečas designed the library for various sizes of books and end-users.
The Dutch Ambassador to Lithuania, Bert van der Lingen has made interaction with local communities in Lithuania one of his key priorities. Restoring the little library was important in that respect. Children from the Salininkai Day Centre were also on hand to add books donated by the Embassy to the Bibliotekėlė. Representatives from the Foreign Ministry and few volunteers also added books to the functional designed little library.
Ambassador van der Lingen said, ''The Embassy has a friendly relationship with the Day Centre in Salininkai and their visit on the occasion of the opening of the Bibliothekele is part of that association.'' Next to this little library is a 'Berit chaise double', a chair for two, by well-known Dutch designer Ineke Hans another gift from the Embassy. The chair allows for a relax read in the green park setting. Many enjoy that comfortable seat during the warmer months that hopefully, soon will be upon us again.
After the re-inauguration the Ambassador invited all to his nearby residence for some typical Dutch treats such as 'stroopwafels' (syrup waffles) and freshly baked 'poffertjes' (small, fluffy pancakes). It seemed an instant hit with some of the visiting schoolchildren. The children were also given a personal tour of the official Residence by the ambassador.
There are about 20 of these little libraries around Lithuania, about half of these located in Vilnius. Initially started as a grass-roots initiative to makes cities and communities more sustainable and liveable, the little libraries rely on citizens to get involved and have a say in what is on offer. The whole idea is to bring a book and take a book, return it, or leave another book in return.
Sekite svarbiausias naujienas socialiniuose tinkluose!