aA
Lithuania's former president Valdas Adamkus says that émigré businessman and public figure Juozas Kazickas, who passed away in the early hours of Thursday, has made the biggest possible contribution to Lithuania's freedom and has proven his love for the country with deeds.
"I truly think now that there is probably no bigger contribution to Lithuania's freedom than his – in the cultural, commercial and political field," Adamkus told BNS on Thursday.
In Adamkus' words, Kazickas sincerely worked for the benefit of Lithuania. Kazickas died in his residence in New Hampton (US) in the early hours of Thursday at the age of 96.
"To him, Lithuania was more than just words of love and respect. He worked for Lithuania, he worked from the bottom of his heart (...). He is a man who lived for Lithuania and today is a great loss to the Lithuanian nation, a loss not only for the family, it is a great pain to accept the fact. One can speak about his love and dedication to Lithuania, but there has to be work to prove it. In the full sense of the word, he loved Lithuania with both words and deeds," said Adamkus.
According to the former president, after Lithuania regained independence in 1990, Kazickas helped open doors for the country's leaders to world politics.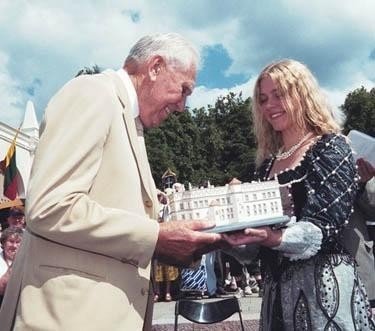 Family of exiles
Kazickas' grandparents, participants of the 1863 uprising, were exiled from Lithuania to Russia. Born in 1918, Kazickas and his family returned to Lithuania in 1922. Later, between 1937 and 1940, he studied economics in Vytautas Magnus University and in Vilnius University. During the Second World War, in 1944, Juozas Kazickas and his wife Aleksandra moved to Germany and later to the US. In 1951, Kazickas defended his thesis in Yale University. He worked in Georgetown University and as an advisor to the US Departments of Defence and State.
During the occupation of Lithuania, the Kazickas family worked to support the Lithuanian culture. He joined the Lithuanian Foundation in Chicago and had been its director for 16 years.
After leaving academia, Kazickas was engaged in coal and oil trade. He established a company Neris and became a prosperous businessman. Kazickas worked as a consultant for various companies and governments (mostly for India). He was also a shareholder and director of several investment funds and banks.
After 35 years in the US, he returned to Lithuania and in 1991 established Litcom (now Omnitel), the first private capital and telecommunications company in the Baltic states. The businessman also invited numerous major investors from the US: Philip Morris, Coca-Cola, Motorola and Williams. Kazickas fostered Lithuania's independence: consulted the Government, organised meetings between leadership of Lithuania, the US and countries of Western Europe.
After retiring from active business, he was engaged in charity and support projects. The Kazickas Family Foundation, founded together with daughter Jūratė, supports education programmes in Lithuania by supplying schools with computers and holding computer programming courses for school students.
Kazickas was decorated with the Riflemen's Star, the Commemorative Medal of 13 January, the Cross of Commander of the Order of the Lithuanian Grand Duke Gediminas, the Grand Cross of the Order of the Lithuanian Grand Duke Gediminas, and the Grand Cross of the Order for Merits to Lithuania.
Naujienų agentūros BNS informaciją skelbti, cituoti ar kitaip atgaminti visuomenės informavimo priemonėse bei interneto tinklalapiuose be raštiško UAB "BNS" sutikimo neleidžiama.