aA
Imagine that one day you pack your suitcase and utterly alone fly out for a month to an unfamiliar country located on the other side of the world. Sounds crazy, but catchy, doesn't it?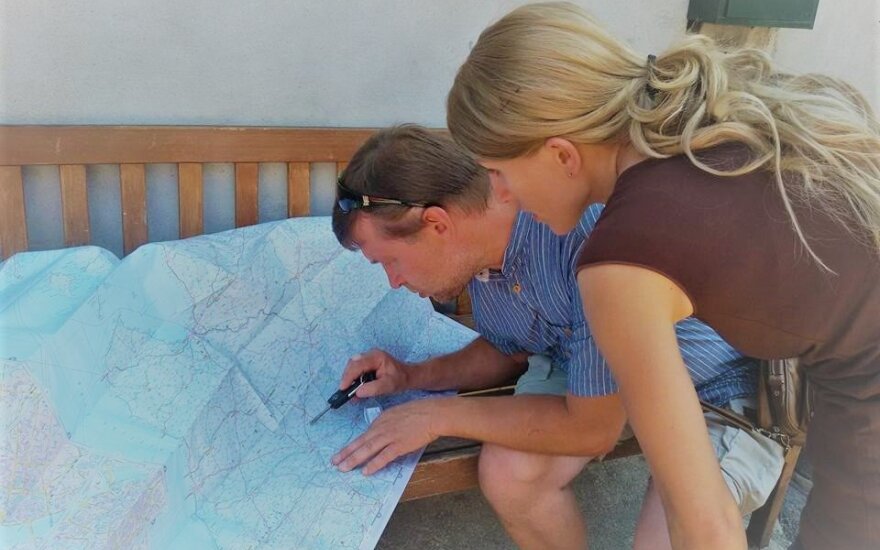 Who would not like to discover and explore other cultures, customs, cuisine and establish a friendship with its members?
However, the story of Anna Wollenzien-Kamin is more than just a desire to discover a new country and its culture.
A thirty-four-year old elementary school teacher from Las Vegas was led off to Lithuania, as she says, by God himself, who has bestowed her the highest value – the family.
Namely, Lithuanian family ties impelled Anna to visit our country since her husband is a Lithuanian-American whose ancestors more than a hundred years ago left Vištytis for a country across the Atlantic ocean.
So, she left her spouse with their three and a four-year-old daughters and exchanged the bustling world's entertainment capital, Las Vegas, for three weeks to a tranquil, mysterious, and bountiful Lithuania full of interesting discoveries and promises.
Husband isn't interested in Lithuania
While listening to the stories of Anna, some immediately raise the question, "Why is she, being an American, feel such a great attraction and affection for Lithuania and what makes her determined to find out as more as possible about her husband's ancestors who lived in Lithuania?"
According to Anna, her interest in her husband's genealogy is mostly stimulated by a feeling of gratitude and respect for her father-in-law who is Lithuanian.
"I spent many countless hours and late nights discussing his family history. I found it quite entertaining and interesting. I kept a small journal of his stories and tried to understand the family relationships," recalls Anna.
Meanwhile, neither Anna's husband nor his siblings exude such an enthusiasm. Being of Lithuanian origin, they strangely seem not very interested in Lithuania. However, it appears that, they have their own reasons.
"My father-in-law has three children, all of whom have abandoned him in his old age. They have rejected him for different reasons, all of which would make a fantastic soap opera or dramatic novel.
He has another son from a previous marriage that keeps his distance, calls once a year, perhaps, but doesn't seek out his heritage.
I knew that his children would not take an interest in the family heritage. They know many of the family stories, and even appear bored of hearing them. Even if he had asked them to participate, they might refuse just out of spite. I know in my heart that it comes down to me," says Anna.
The tragic family history
During the long evenings Anna used to listen to her father-in-law's stories with great interest. One of the stories told by her father-in-law William and his younger brother Thomas vividly replays in her mind.
Circa 1900 or decades earlier in the fields of Vištytis working farmers were suddenly attacked by the Russian Cossacks riding horses. They slayed several working farmers.
Among the victims was Anna's father-in-law's great-grandfather Jonas Vieraitis. This is the story often told to Anna's father-in-law by his grandmother with tears in her eyes who as a young woman witnessed the massacre.
Unfortunately, neither Anna nor the people near the history of the region could find more precise details of this cruel event.
The trip planned for several years
Having collected plenty of valuable information from her father-in-law and an accumulation through electronic archives, Anna's trip to Lithuania became a quick reality.
Through social networks, she got acquainted with a genealogist from Lithuania, who also helped her establish communication with the living descendants of her husbands family tree.