aA
From the end of August 2020, Nida Art Colony of Vilnius Academy of Arts is showing The Spectral Forest – an international group exhibition of eight contemporary artists working across a range of media and themes, exploring a spectrum of histories, ecologies, and mythologies intertwined with both local and planetary woodlands.
The group exhibition, curated by Stockholm-based curator Rado Ištok, marks the final chapter of 4Cs: From Conflict to Conviviality through Creativity and Culture, a continuous European Cooperation Project carried out at the NAC since 2017, focused on themes of liminality, reconciliation, and passage.
The Spectral Forest presents newly commissioned and existing works as a promenade through an enchanted forest – a concept based on the significance of the sacred groves in the Baltic region, as well as on-going deforestation and afforestation, and past displacement and resettlement on the Curonian Spit. Referring not only to spectres, ghosts, and spirits traditionally residing in the forest, but also to the notion of the spectrum as a condition that is not limited to a specific set of values, the exhibition poses continuity, fluidity, and permeability against the reductive binaries and divisive language increasingly dominating the political climate.
While some works presented in The Spectral Forest are rooted in the locality of Nida, they are not limited to it. Eglė Budvytytė's inter-species film Songs from the Compost: Mutating Bodies, Imploding Stars, in collaboration with Marija Olšauskaitė and Julija Steponaityte and co-produced by the Riga International Biennial of Contemporary Art (RIBOCA), or Mark Ther's Golo, were shot in the surroundings of Nida. While Golo is an exploration of the LGBTIQ+ potentialities in the region through the figure of Golo Mann, the son of locally and internationally renowned writer Thomas Mann, works by Elin Már Øyen Vister and Santiago Mostyn attempt to reconnect the entangled histories of the Baltic coast with the shores of Scandinavia and the Carribean islands respectively. The monumental new series of bleached drawings by Paul Maheke, currently nominated for The Future Generation Art Prize, is a continuation of his interest in cosmology and communication between different worlds and times, a theme also explored in the work of Jin Mustafa, including in her new film Ahead of Sight. In comparison, Susanna Jablonski's sculptures and Ieva Rojūtė's textual and spatial installations offer glimpses into intimate worlds through their affective charge, enveloping us like a forest growing from the deep roots of memories and interpersonal relations.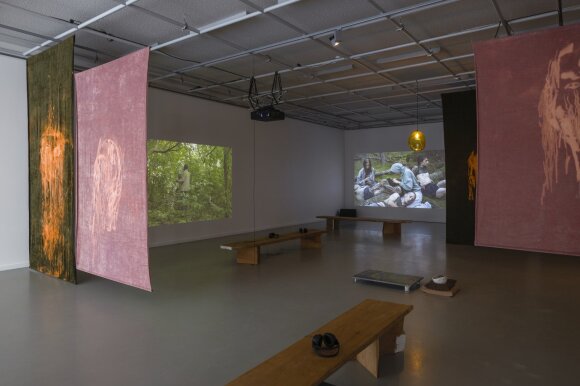 © Organizatorių nuotr.
The exhibition, alongside an accompanying catalogue (to be published in January 2021), is the final chapter of the four formats – alongside a residency, a workshop, and two publications – guest-curated by Rado Ištok at NAC within the 4Cs: From Conflict to Conviviality through Creativity and Culture, a European Cooperation Project co-funded by the Creative Europe Programme of the European Union. As a part of the programme, five of the participating artists took part in a two-month residency at NAC in Autumn 2019 in order to produce newly commissioned works for the exhibition. In parallel, a three-day workshop, Dwelling on the Threshold, exploring spaces of passage, flux, and fluidity, took place at Nida Art Colony in October 2019, accompanied by an eponymous online handbook published in February 2020.
The exhibition is open until 8 November 2020 from Tuesdays to Sundays at Nida Art Colony, free of charge. NAC is employing the appropriate measures against the spread of COVID-19 – please note that wearing masks is mandatory for both indoor and outdoor events. Be cautious and pay attention to keeping a distance of at least 1m from the other guests when attending the event. Please stay home if you are showing COVID-19 symptoms or suspect you have been in contact with an infected person.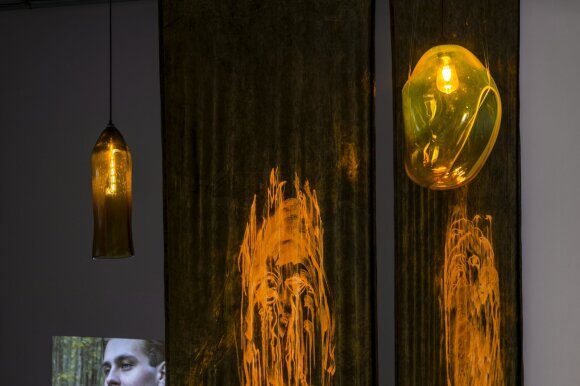 © Organizatorių nuotr.
Nida Art Colony of Vilnius Academy of Arts offers space and comfortable conditions to professional artists and practitioners working with visual culture for focused and undisturbed work in Nida, a remote UNESCO World Heritage Site. NAC is surrounded by the unique landscape of the Curonian spit: forest, sand dunes, and the sea. NAC runs a residency programme, the annual Nida Doctoral School, and initiates art, education, and research projects. Opened in 2011, NAC operates all year round and provides space for workshops, intensive courses, exhibitions, seminars, rehearsals, artist talks and screenings. In 2019, NAC organized the Lithuanian national pavilion, Sun & Sea: Marina, at the 58th International Venice Art Biennial, which was awarded the Golden Lion prize for the best national participation.

It is forbidden to copy the text of this publication without a written permission from DELFI.