aA
Every second Lithuanian has warm feelings about pieces of furniture and interior from the previous century. This is more an object of admiration for the younger audience who turns their looks to the times of parents and grandparents. The study carried out at the IKEA Lithuania request reveals that at least one piece of furniture or interior element from last decades can be found in two out of three Lithuanian homes. To celebrate the 75th anniversary, IKEA launched a limited furniture collection of legendary products from the past.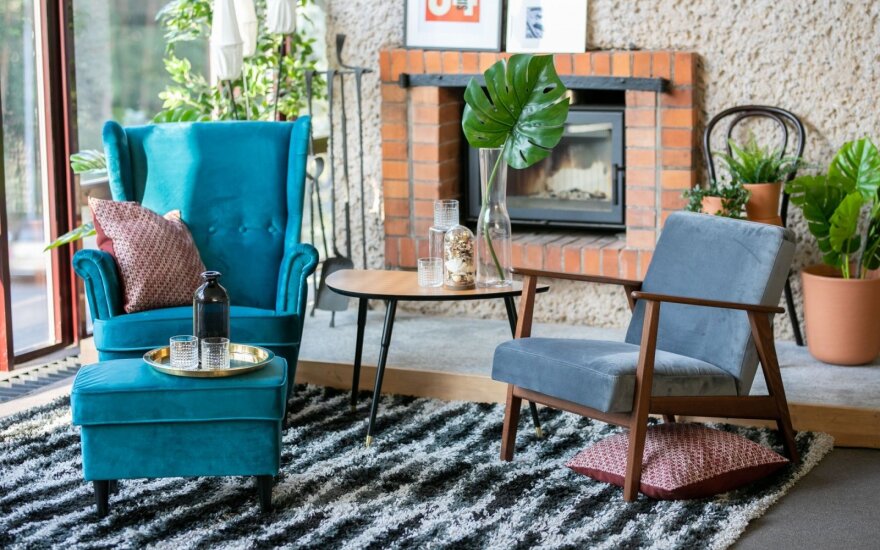 "When establishing new modern homes, nostalgia and memories related to our childhood homes lead to selections of furniture, lighting and interior accessories we make today. However, even discussing the wistfulness about furniture from the previous century, we are still about the Scandinavian design ideas so close to Lithuania. The Scandinavian spirit – that is how houses in the country and flats in towns were often furnished", explains Dr. Lina Preišegalavičienė, Architecturologist. According to her, the key principles of the Scandinavian design, such as rationalism, minimalism and esthetic colour coordination, are also characteristics of the Lithuanian historical interiors.
Old furniture – from the parents' house or special collections
Two out of three Lithuanians participating in the study have things from last decades in their homes: books are the most common (65 %), home furnishing items and dishes (58 %), small interior elements and old pictures (54% each).
Survived furniture is less frequently found here. Only 15% of the respondents still own beds from last decades, 19% have chests; indeed, the majority of such owners belong to the group with the highest income. Still, several decades old tables (43%), wardrobes (45%), chairs (40%) can be found in at least four out of ten homes. In most cases, the old furniture arrived from parents' houses (66%), and a part – from grandparents' homes. The smallest group of furniture from the previous century appeared in the Lithuanians' homes from antiques (11%).
"Recently, searches of furniture and interior items with a story in antique shops, forums or special groups in social networks have become an entertainment and a way to spend your leisure time. We wish to stand out, express our individuality not only in outfit but also in home furnishing ideas with some story. Following this trend, IKEA, celebrating the 75th birthday this year, introduced a special limited edition of legendary products. The collection launched in the world and in Lithuania in August will include products from 50s and 60s. The second one in October will cover the 70s and 80s, and the third collection in the end of the year will be related to the turn of the century", – presents Eimantė Nemanė, IKEA Communication and Interior Design Manager. More than forty items from dishes, cushions to lighting and sofas will come back recovered and updated, adopted to life today and for a better price, comparing with respective models in ordinary collections. For instance, the iconic armchair STRANDMON is now in turquoise velvet, and the lamp KNASIO goes with LED bulbs only.
It is not about carpets on the walls
Emotional bonds is nearly the main reason of such vogue of furniture from the previous century. 60% of the respondents agreed that these things remind them of family, relatives and close people; a little over one third value the authenticity of old furniture, one forth explained how much they enjoy combining furniture of different styles and from different periods. And to add up, a bit less than 30% stated that they find old furniture more durable and reliable – this is believed by the Lithuanians over 65, honestly.
Nevertheless, the respondents look at some interior solutions from old days with some irony. When asked which solutions in particular seem to be the biggest misunderstandings, the majority mentioned carpets on the walls (75%), collections of cans and similar souvenirs in kitchens (53%), and storage solutions in living rooms (42%).
"Some interior elements form the past are surely difficult to understand; however, interior fashion is cyclic, so we should not be surprised by carpets on the walls again in a few years: the form and stile can change, but solutions repeat", says E. Nemanė. According to her, to integrate old furniture into the modern interior, one basic principle should be considered.
"Eclectics when different styles and periods are mixed at home is very trendy today. Still, it is essential to be moderate with the variety of colours and textures. For example, the classical armchair STRANDMON would twist, as a characteristic detail, in an especially modern interior, and nothing else should be mixed or added here. The same principle should be followed in coordinating colours and fabrics", shares the interior designer.
The first part of the IKEA 75 collection will reach IKEA Vilnius store in August and include around 10 different products returning from 50s and 60s.
Sekite svarbiausias naujienas socialiniuose tinkluose!