aA
With just days left before Christmas and everyone feverishly trying to finish up on their end-of-the-year errands, one is sometimes hard-pressed to find reasons to smile. A Lithuanian photographer has come up with an idea to change that. He has decided to dress up as Santa Claus and take snapshots of people eating their lunch in the central street of Vilnius.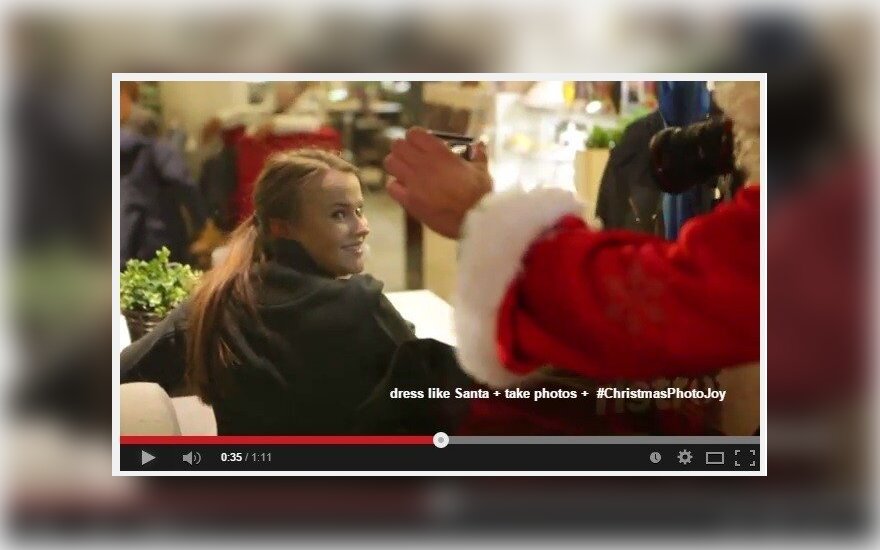 Photographer Tomas Tumalovičius, who has his own photography school called "Talking Photography", says the idea came to him unexpectedly.
"During a photography lesson, my students and I were passing a hotel and started taking pictures of people having their meals. When they saw flashes, the people started laughing and this made me think that their smiles would have been even bigger, had I been dressed as Santa Claus."
Tumalovičius says that it is right before Christmas that people usually forget to enjoy the season, swept as they are with work. To remind them of the holidays, the photographer assembled a team of friends, rented costumes and went out to the streets of the festive city.
"My friend who took pictures dressed up as a rabbit, the cameraman was a bear and I was Santa Claus," Tumalovičius says. Even though Lithuanians are thought to be quite timid and private, no one objected to being photographed by the eccentric crew.
"Even people with the most concerned expressions on their faces would brighten up upon seeing a cheerful Santa through a window," the photographer says, noting that many passers-by would try to get into a shot themselves. Had he been charging even a small fee for each shot, the photographer jokes he would be a millionaire now.
If everything goes well, he adds, he hopes to have his idea developed into a bigger movement.
"I would like to turn this into an international campaign, although it might be too late for it this year. I'll have to start earlier and more earnestly next year. The idea will be a simple one - photographers will dress up as Santas and go out into the streets to take pictures of people. The images would then be uploaded to a special online gallery. It would be interesting to see the difference in people's faces before and after meeting Santa Claus," says Tumalavičius, noting that work and worries will not go anywhere and therefore should not cloud the season's holidays.
He challenges everyone with a camera to join the campaign, dress up and cheer people around them up a little. More photos are available here.

It is forbidden to copy the text of this publication without a written permission from DELFI.