On 19 September in Vilnius, a new record was achieved, the longest chicken shashlik was baked during the 10th Open Lithuanian BBQ Championship.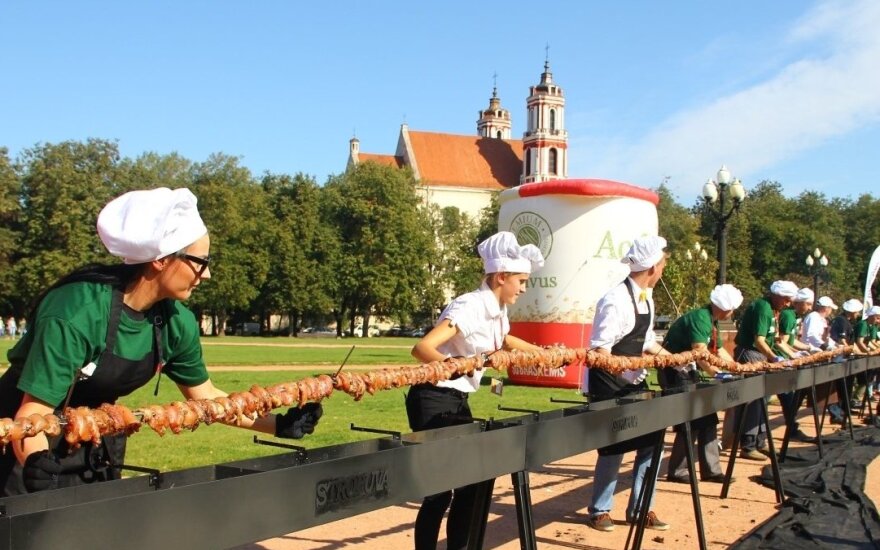 More than 2000 pieces of meat, 100 meters of grill, went into the longest chicken shashlik, weighing 300kg. It was prepared by the Lithuanian Barbecue Association (LBKA), World BBQ Association representative Mr. Benjamin Bartlett, better known as Ben BBQ, as well as Lithuanian chef Ruslan Bolgov and JSC Vilnius poultry farm.
According to Mr. Juozas Kaminskas, the president of Lithuanian Barbecue Association, breaking records is a traditional part of the Lithuanian championship program.
"More and more Lithuanians prefer chicken for grill, so together with our partner Vilnius poultry farm we baked shashlik of autumn flavour - chicken meat shashlik in mushrooms marinade," says Juozas Kaminskas.
Mr. Benjamin Bartlett, who became witness to the Lithuanian record, commented:
"I travel a lot and participate in various events, and I saw sports, art and other types of records made there, but not from food. It is not so easy to make it, as not only a big amount of food products are needed. There is a real big challenge to prapare it, you need special equipment and a big team of professional cooks and grill masters. This is not only a great spectacle, but also the festival for participants and the audience."