aA
Wide range arts syndicate Bad Rabbits was established in 2012 and immediately started to produce street theatre performances and theatre productions in non-traditional spaces and by doing that making Lithuania's name a bit more known internationally.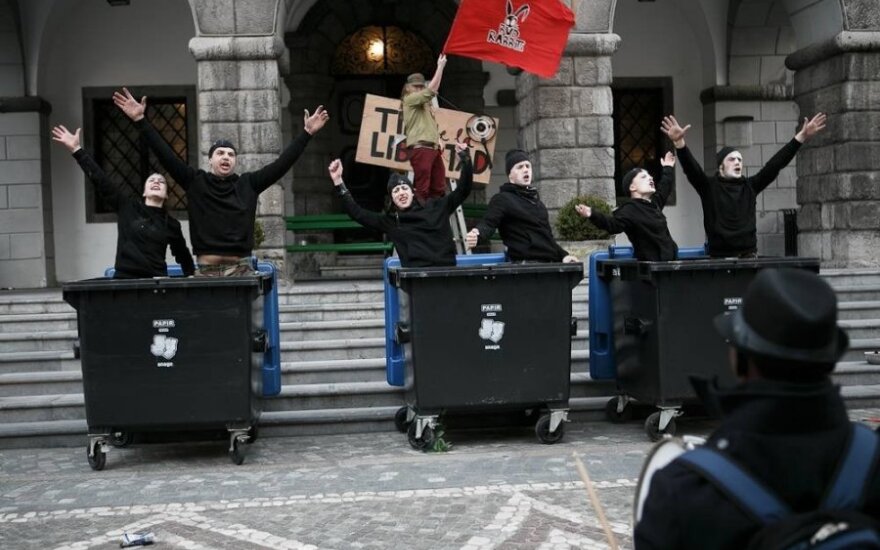 Bad Rabbits just got back from Slovenia where they were a part of SAWA#4 -The Street Arts Winter Academy conference on street theatre education alongside participants from Switzerland, Germany, France, United Kingdom, Poland and Slovenia. The biggest achievement of this conference was the establishment of EFETSA - European Federation on Education and Training in Street Arts. The goals of this federation are to organize international street theatre events and improve formal and non-formal education of street performers. For now the Lithuanian syndicate is the only Lithuanian member of this federation.
During this time Bad Rabbits also were part of SWISST – Short Winter Showcase of Street Theatres in which they performed their street theatre show The Rise and Fall of Democracy - Tir de la Libertad. This "revolutionary" game was performed on the stairs of the city hall and sparked an interest in them to international producers.
To top that, during their time in Slovenia Bad Rabbits and their Slovenian partners Ana Monroe and Kud Ljud were a part of Bertold Brecht's Mother Curage adaptation to street theatre performance which was shown in Slovenia and Austria.
Bad Rabbits rarely perform in their home country, but on 15 March they are inviting all willing to take part of M.T.C.- Modern Tolerance Centre show at 5 PM at culture club Kablys in Vilnius.