The Jewish remains found in a mass grave at the 7th Fort in Kaunas, Lithuania's second-largest city, have been reburied in the place they had been found.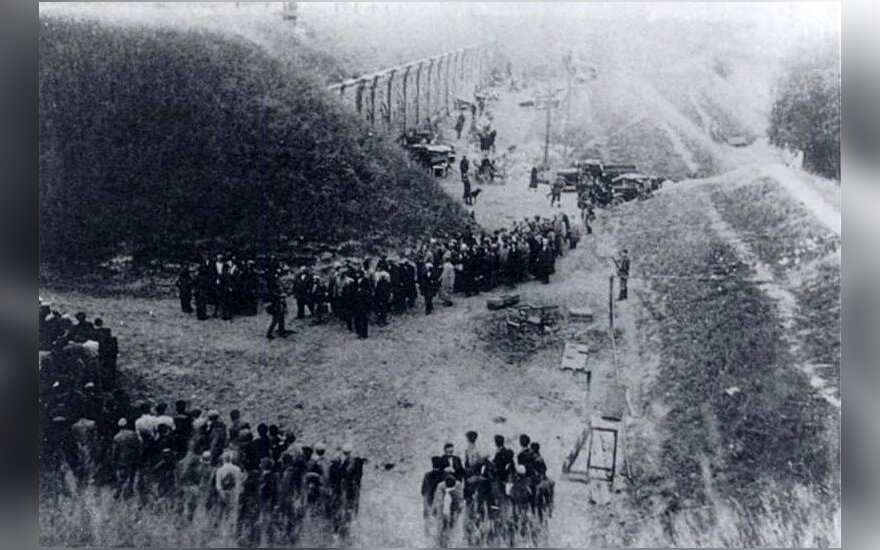 Two rabbis from the Committee of Preservation of Jewish Cemeteries in Europe and Gercas Zakas, chairman of the Jewish Community in Kaunas, buried three boxes with the discovered bones and shoes.
"I would like to say that more than 70 years have passed and although we are usually sad during a funeral, today I am glad that we can bury these members of our community, our sisters and brothers, according to the Jewish traditions and customs," Zakas said during the ceremony.
The rabbis, however, said they were deeply saddened by the fact that the remains had remained uncovered for a prolonged time. They underlined that the remains must be laid to rest and expressed hope that peace at the fort would be preserved following the reburial.
"We are continuously surrounded by mass graves. Not only in Lithuania. We have them in Poland, Ukraine. And it is very important: these people suffered enough they went through. What we see when we work on these graves, we witness these tortures. It's very evident sometimes, we see the bullets, we can see their suffering and we do everything we can that they could at least now rest in peace. According to the Jewish tradition and according to their own wishes. The soul of a Jewish person never has peace as long as his body is not having peace," Rabbi Abraham Ginsberg told journalists after the ceremony.
The decision to rebury the remains in the same location is based on a Jewish religious-legal provision that remains found in a place were the people were killed or buried cannot be moved to another place. Moreover, if the remains were reburied elsewhere, separation problems would arise as the discovered remains are not from an individual but a mass grave of estimated 5,000 people.
The Nazis, often assisted by local collaborators, killed around 90 percent of the Jewish population of more than 200,000 in Lithuania during WWII.
Naujienų agentūros BNS informaciją skelbti, cituoti ar kitaip atgaminti visuomenės informavimo priemonėse bei interneto tinklalapiuose be raštiško UAB "BNS" sutikimo neleidžiama.