If you're having trouble registering for a user account or making a subscription payment, these instructions will show you how.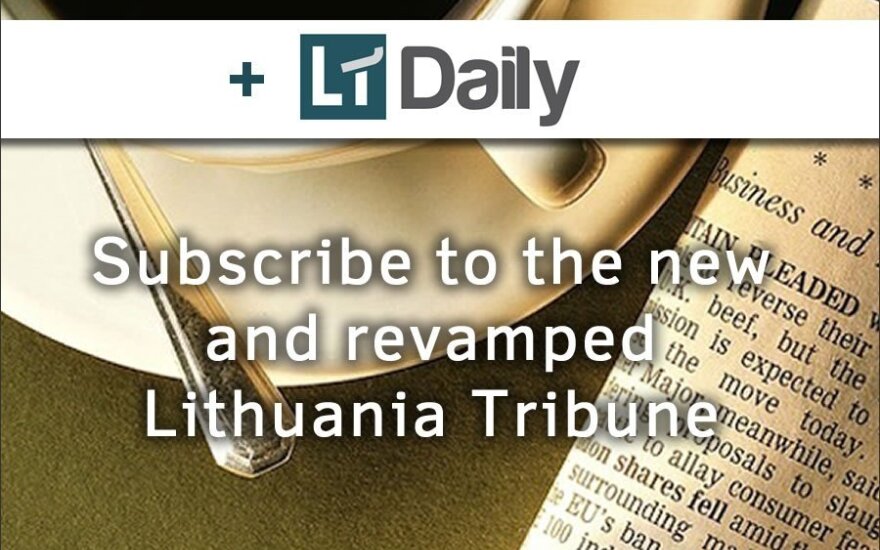 1. When you click on an article, you will encounter a log-in / subscribe prompt below the article's summary (as indicated below), click here if you want to get started right away as a new subscriber.

2. As a new subscriber, once you click on the link described on step 1, it will open a new window (pictured below), which will ask you to authenticate your Delfi ID or log in through social media. Since you probably need to make one, click on "Create New Account" (as shown below)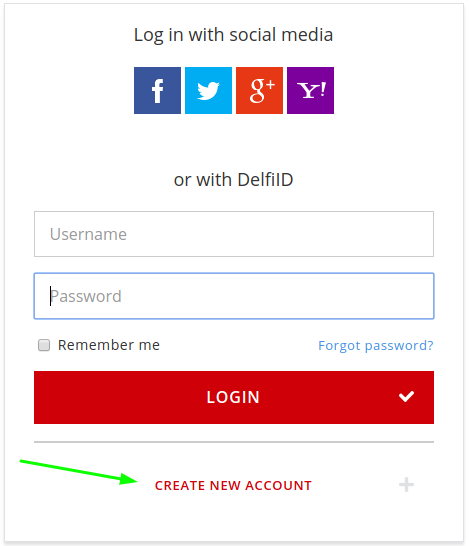 3. After you click on "Create New Account" you will be allowed to create a new user ID. Please enter all fields required (as shown below). Your "Display Name/Username" will be what other people see, should you want to comment on certain stories/articles. Please save these details as you would need them in order to login into the system. Enter a secure password (with at least 6 characters), your email address, and tick off the Terms of Use box (as highlighted below). Once you're done, click on "Continue"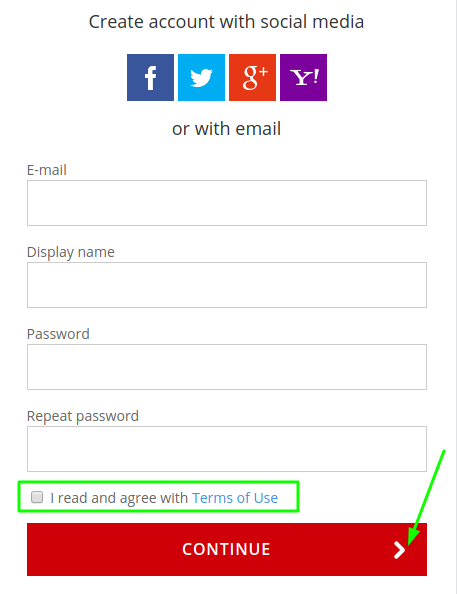 4. After you click on the 'Continue' icon, the page will reload and you will go back to the initial prompt-in page. Furthermore, you will be sent a confirmation email. You will be able to confirm your email at any time. Please click on the 'Log-in' blue icon and you will be taken to the subscription page (as shown below).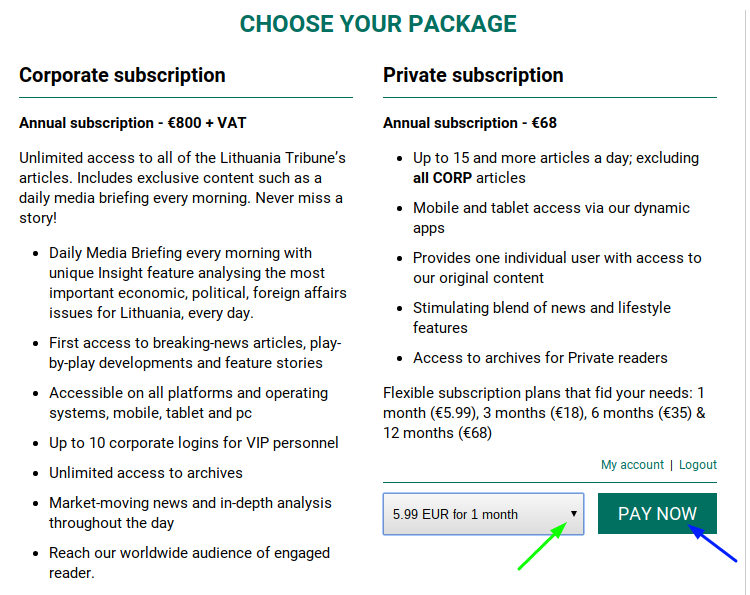 5. By clicking on the drop-down menu, you will be provided with 4 subscription choices. To select one, click on the drop-down menu (as shown above). Once you have selected the best option for you, click on the "Pay Now" button next to the drop-down menu.
6. Next, you will be taken to a new page called PaySera, which is an e-commerce payment platform based in Lithuania. The default language should be in English. In the event that it displays it in Lithuanian, you can select your preferred language by clicking on the drop-down menu on the upper right-hand corner (as pictured below):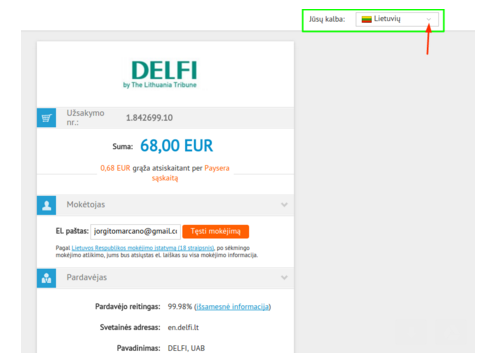 7. Select your chosen language from the drop-down menu: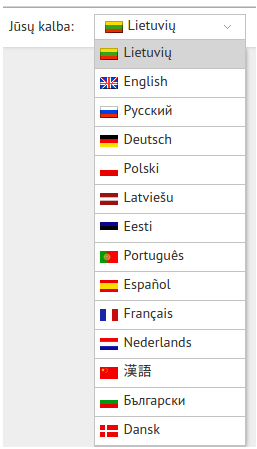 8. After selecting your language, please enter the same email address you used when creating your Delfi account. Once you have done so, click on the "Continue payment" icon: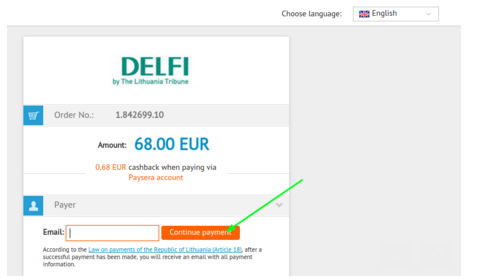 9. Select the payer's country from the drop-down menu of the same name: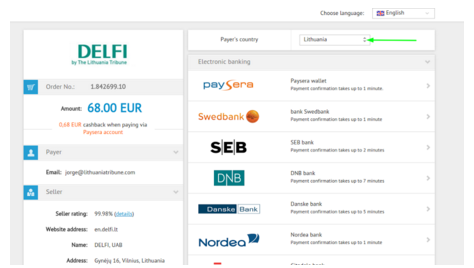 10. Select your preferred payment method from the options provided. These may differ depending on the country you've chosen.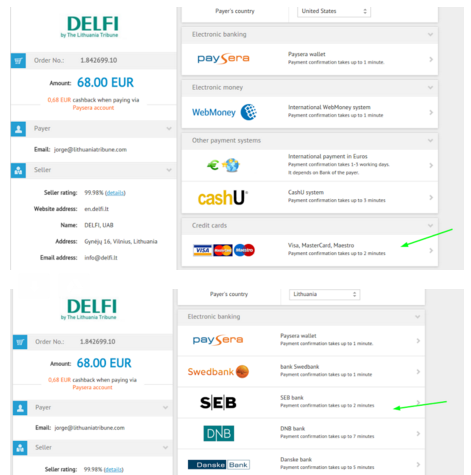 11. Keep in mind that if you choose to pay via credit card, the following page may return to the default Lithuanian interface. Change it back to your preferred language with the drop-down language menu as you did in step no. 7: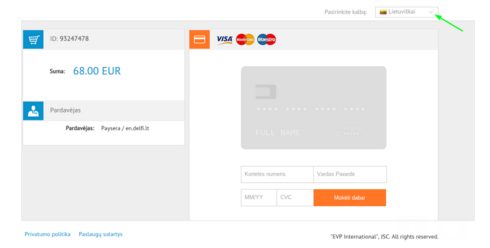 15. After entering your credit card information, click on the "Pay Now" icon to complete your purchase: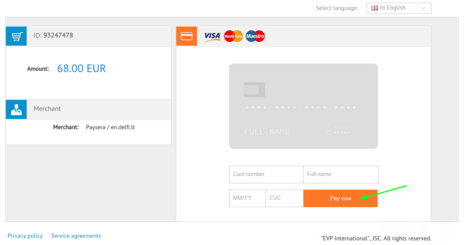 Congratulations! You are now subscribed to the new Lithuania Tribune!
If you have any additional questions, please do not hesitate to contact our Sales Manager, Jorge Marcano, at jorge@lithuaniatribune.com.