aA
City residents are increasingly choosing electric scooters. They have become popular almost overnight with people preferring them to travelling by car or cycling. However, those who wish to avoid traffic jams in the morning on a scooter must first decide which to choose from a multitude of different models, speeds and functions. What things do you need to consider when buying a scooter?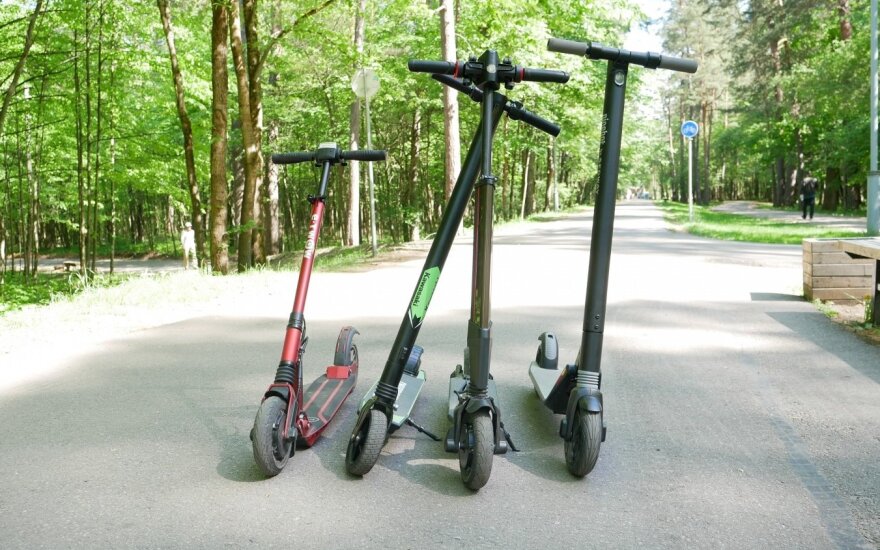 Eglė Lašinskienė, Specialist at the Shopping Centre Senukai, shares her top five tips on choosing the best new electric scooter for you.
First – try it
If you want to take advantage of all the functions of the scooter, you should first take into account the manufacturer's recommendations regarding the weight and the size of feet that best fit the scooter. Electric scooters are usually intended for people who weigh less than 100 kilograms, perhaps slightly more. The speed that you can do on the same scooter depends upon the weight of the rider. Before you buy, you should try the base of the scooter as well – you must be able to place both of your feet on its deck comfortably. If it is too small, it will be unsafe and uncomfortable to ride.
How to choose the right wheels
When choosing a scooter, you should pay attention to its wheels. When deciding on the right ones for you, consider the areas where you will be using your scooter most frequently. Bigger rubber wheels will be suitable for different roads – they can comfortably be used on a city pavement, lawn or even sand. If you plan to ride just on smooth surfaces, you should choose a scooter with smaller wheels. The larger the wheels, the easier a scooter can ride over potholes or other bumps on the road surface. If you mostly travel the stone streets in the Old Town, then you should choose a scooter with bigger wheels and even shock absorbers.
Durability and lightness
Modern scooters are designed so that they are not only durable, but also light and comfortable. Some manufacturers using high-quality aluminium alloy now can offer scooters that weigh only slightly more than 11 kilograms. For comparison, the weight of older generation steel scooters is as much as 20 kilograms. In addition, some scooters made of aluminium alloy can be folded with the touch of a single button. Such scooters occupy a small space; therefore, it is comfortable to carry them in the trunk of a car, by public transport or take them to the workplace during the day.
About the charging
Are you planning to ride large distances on your new means of transport? That is not a problem –you can charge the lithium-ion batteries, which are most common in modern scooters in just 3.5 to 5 hours. Having charged a scooter overnight, you will be able to travel up to 30 kilometres the next day. If you want to use the battery for a longer period, it is recommended that you keep to a speed of 18 km/h. Some models contain an energy recovery mechanism – the battery is charged by regenerative braking so allowing you to extend the battery life while travelling.
Scooters and smart technologies
As technology is advancing. While there are smartphone applications designed for any and all real life situations, scooter riding is also becoming smarter. Some new generation scooters are controlled through the applications where a Bluetooth connection is used to monitor speed, energy consumption, battery use and other parameters. Such applications may also have a speed control function, which enables the rider to travel at a particular speed without touching the accelerator.