A group of third graders from Vilnius have pledged to give up their Christmas presents this year in support of an animal shelter. The class of 19 children from Žiburio elementary school decided in unison that they would not only give up their presents, but would also sell homemade sweets at Cathedral Square to raise money.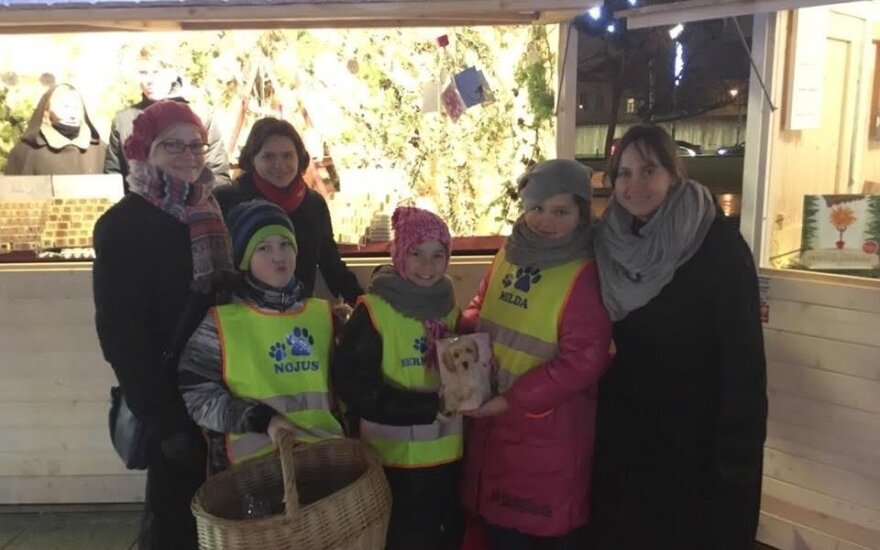 All of the proceeds will be donated to the shelter. "The children understood they had a choice," said Agila Barzdienė, one of the moms.
It was near freezing this past Thursday when the students gathered at the Christmas market on Cathedral Square. It is not often that a group of children defy the cold weather to sell sweets for charity. It is even rarer to see them renounce their own Christmas presents so that others can have a little more. It fits well with the Christmas spirit that has now taken over Vilnius.
Every year parents of elementary school children in Vilnius purchase cookies, sweets and board games that are then given out at school around Christmas time. The idea to renounce these presents this year came from a nine-year old school girl. One day early this December the girl came to school and told her classmates they should join hands and say no to this tradition. "The money could then be used for a charitable cause," said Agila Barzdienė, whose son is a student in the class.
The plan caused some hesitation amongst the children at first, but soon it was unanimously decided that this was what they would do this Christmas.
"They believed they had to refuse all presents," said Barzdienė. This, however, was not the case. Even though the kids are giving up the presents they would have gotten at school, they will not be left an empty space under their tree.
"The parents and the little girl explained to the other children it would not be all their Christmas presents they'd be giving up, and that Santa Claus would definitely still come to visit them if they were good this year."
In between the market stalls on Cathedral Square the children trotted with baskets full of sweets on their arms. Passersby stopped, interested at the sight of the little salesmen. The braver kids did not wait to be approached, but singled out their clients from the Christmas shoppers and addressed them to sell their wares.
"It's Christmas for dogs too," said 8-year-old Atėnė, as she pulled her hat further down over her ears.
Barzdienė, who is also the Head of Junior Professionals Programme Create for Lithuania, came to the class to help the children decide on a charitable cause. Furthermore she talked to them about citizenship, the responsibilities of a good citizen and what it means to be a good person.
"The children soon came up with their own big idea. They decided it is not just about following the rules, but more so about setting an example for others. One of the first ideas was to help an animal shelter," said Barzdienė.
Any of the previous hesitation about giving up Christmas presents was nowhere to be seen during the selling of goods at the market. Barzdienė said: "Some of the other moms have asked me how the children were feeling about giving up their Christmas presents, but none of them have even brought the topic of presents up at all!"
The children are now looking forward to bringing the food to animal shelter Tautmilės Prieglaudėlė this coming Monday. "This really is the best present for them," said Barzdienė.
The children have not yet sold all their sweets and will be bartering off their remaining stock this Friday evening at St. Ignatius church in Vilnius from 6 pm before revealing the total amount of money raised.