aA
When you think about sunny and tropical Malaysia here in Lithuania, it is hard to imagine the decision to swap 26-degree Celsius climate to the rainy and cloudy Vilnius. But not for Xin Jo - driven by the passion for tech, she decided to quit her comfort zone and to travel more than 8,000 kilometres to VGTU "LinkMenų fabrikas".
Xin Jo is a 23 years old student from Universiti Teknologi Malaysia (UTM). Currently, she is pursuing a bachelor's degree in Civil Engineering. During her internship at VGTU "LinkMenų fabrikas", Xin Jo showed up her everyday growing skills - from 3D modelling, graphic design to coding. A few days left till Xin Jo's flight back to Malaysia and we sit together to talk about her time as a trainee in VGTU "LinkMenų fabrikas".
- What led you to choose Lithuania and VGTU "LinkMenų fabrikas" for your internship?
- Though I am highly interested in tech, I am still in a phase of 'trying new stuff'. So, the various engineering tools and tech available in VGTU "LinkMenų fabrikas" attracted me to come here as a trainee. Also, the other main reason that I could make it to this program is that Erasmus+ fully funds it. This opportunity could be described as a 'so-good-to-be-true' opportunity for a student like me from a middle-class family.
- Tech industry nowadays attracts more and more women, why you decided to study Civil Engineering?
- My initial intention to study in Civil Engineering is straightforward. It would provide me with job security for a long duration. Regardless of how or how fast the world is changing, people will always need to live underneath the roofs. More houses need to be built to accommodate the growing population. But, the more I dive into Civil Engineering, I started to see the construction industry differently from the sustainability point of view.
I like the quote from Peter Thiel's book "Zero to One" – "there is nothing such as the developed world or nation. If every one of India's hundreds of millions of household were to live the way Americans already do - using only today's tools - the results would be environmentally catastrophic.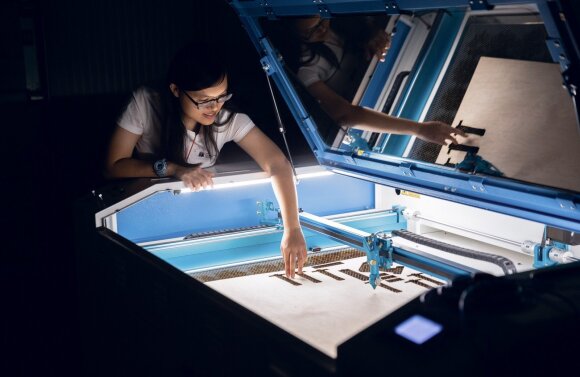 © VGTU
It is no doubt that one can see massive advancement in terms of sustainability in the energy and automotive sectors such as solar-powered city and electric vehicles. However, in the construction industry, despite being one of the essential areas in making the world a better place, progress is less visible. The industry is notorious for its extremely low increment of productivity rate in the last 20 years due to lack of digitization.
Personally, I could sense a huge opportunity when combining the construction industry and the tech industry, especially from the sustainability point of view. Therefore, I braved the unknown risk by taking one semester off from my study and exposing myself to tech industries.
- What was your learning journey in "LinkMenų fabrikas"?
- I started with 3D Printing – first, by printing some functional decorative items for the 3D Printing workshop in "LinkMenų fabrikas". Later, I began to design my models using SolidWorks. Then, I was also given the opportunity to model the building of "LinkMenų fabrikas" from architecture drawings, and with the 3D printer print the mini model size of it.
During the Christmas period, I designed two prototypes for Christmas gifts. Both prototypes are produced using only 3D Printing. Then, I was suggested to try the laser cutter and to create some other prototypes for it. So, I designed six coasters using Inkscape and manufactured them using laser cutting and engraving. To make the prototypes look even more attractive, I used paint spray gun on the wooden coasters and learned how to sand some of the parts of the coasters. So, from this Christmas project, accidentally, I learned how to use laser cutter, paint sprayer and sanding plywood using the machinery.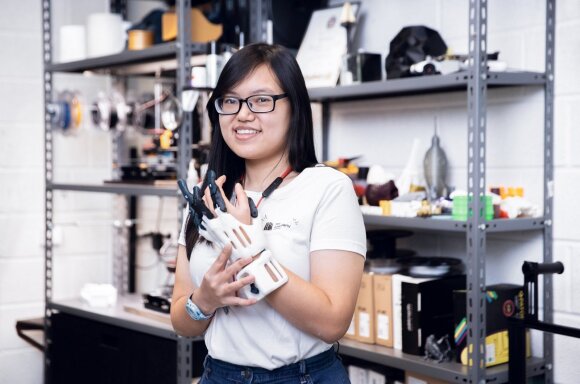 © VGTU
Currently, I am learning to set up the 3D printer control software, called OctoPi, to record time-lapses of 3D Printing using a Raspberry Pi microcomputer and Raspberry camera. Though I have some necessary coding background for Android apps and Arduino microcontrollers, it is my first time working with Raspberry Pi. Fortunately, with the help of another intern, Gustavo, I picked up at a fast pace. Currently, the system is set up but will need to undergo some tests to find the balance point between the quality of 3D print and the video quality of the timelapse.
Blitz questions:
- What was the biggest challenge you faced during your internship?
- I would say time. Since time is limited, I always push myself to work longer, harder so that I can learn and gain more from the process. Yet, I still could not finish all the want-to-learn lists in my mind, such as making my laser cutter machine, involving myself in AR/VR development and video editing.
- What is your favourite tool in VGTU "LinkMenų fabrikas"?
- The large 600mm x 600mm x 600mm 3D printer. It is definitely the ultimate experience that I could have here!
- What do you think, how the skills you gain here will contribute to your future career?
- Technically I won't be able to use these skills in my future career. But I am sure that the fundamental knowledge and analogies obtained from learning these skills are very beneficial for my future learning curve and career. For example, I might not be using a 3D printer in my future career, but knowing the fundamental knowledge behind it - such as factors affecting the print quality, its mechanism, would help me to think of the 3D printing housing solution more critically.
- Would you recommend others to intern in VGTU "LinkMenų fabrikas"?
- Yes! "LinkMenų fabrikas" offers a lot of learning opportunities for their interns. They do not restrict you to learn in a very structured way. You can plan your learning module on your own, and they will assign mentors to guide you. The people here are friendly, helpful and most importantly, talented. You can find electrical engineers, metal engineers, designers, video makers and many more, all in one place. So, it is undoubtedly a good place to gain not only one but a lot of new skills.

It is forbidden to copy the text of this publication without a written permission from DELFI.