Happy winners: At the awards ceremony on 31 May in the Art Factory "LOFTAS" in Vilnius, Aedilis UAB won the German-Lithuanian Business Award. The company also won the online voting against their competitors.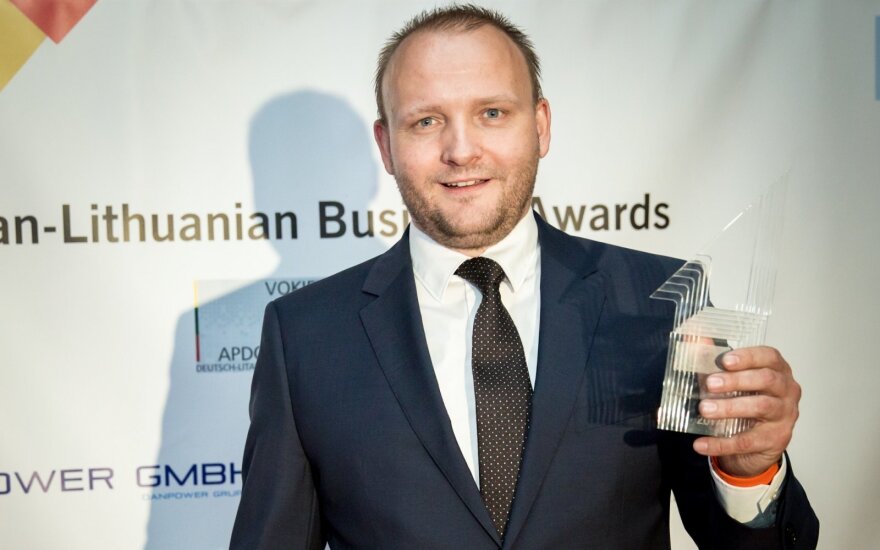 The slogan of the German-Lithuanian Business Award 2017 is "Digital networking - prepared for Industry 4.0". In total eleven companies that optimized their workflows trough digitalized processes and use Industry 4.0 actively, applied for this competition. After a preselection five remaining finalists got visited by a jury and were evaluated in an online voting.
"There is a broad consensus that sustainable success in the globalized world of the 21. century is highly dependent on digital networking. Already today skills and capacities in this area are inevitable for important investment decisions. For this reason I hope that this awards ceremony is a good example for others; the participating companies definitely convinced the jury", - Jutta Schmitz, German ambassador to Lithuania.
"All the companies that applied for this award impressed us with advanced technologies. I hope that trough this award the digitalization and Industry 4.0 will further improve, especially in respect to German-Lithuanian collaborations", - Kazimieras Kaminskas, Regional President of the German-Baltic Chamber of Commerce.
The winner of the award is a proof for the great potential that lies in the digitalization of the industry. Aedilis UAB is a supplier of technical products and services in the area of energy infrastructure. Six years ago they found a new business unit that works on the development of IT solutions. With the platform "Cloudindustries.eu" the company developed a worldwide unique system for process monitoring and process controlling in the field of renewable energies and energy efficiency management. Well known users of this platform are for example LIDL Lietuva, August ir ko. and Sicor Biotech.
The Deputy Minister of Economy of Lithuania Rugilė Andziukevičiūtė-Buzė handed over the award: "I am happy that this year's award takes account to one the most important issues of the Lithuanian Government: Industry 4.0. The German-Baltic Chamber of Commerce and this award are helping that the 4th industrial revolution is booming in Lithuania too. In addition it helps to create visibility for our companies on an international level"
It is already the 12th time the German-Baltic Chamber of Commerce awards this prize. The winner receives a trip to the "Industry of Things World Conference" in Berlin – including the flight and lodging. The winner of the online voting, which in this case is as well Aedilis UAB, receives a sponsored car of Sixt for one week. Patron of the award is Jutta Schmitz the German ambassador to Lithuania.
The German-Baltic Chamber of Commerce thanks the jury members, the sponsors of bnt attorneys-at-law, Bosch, Danpower, Ergo, TripleA and Siemens as well as the partners of "Industry of Things World", Kempinski Hotel Bristol Berlin and SIXT Lietuva for their support.