In the second quarter of this year annual nominal growth of gross wages accelerated to 4.6%. Meanwhile, real net wages increased by 4.9%, due to increase in non-taxable income threshold as of January 1st. However, the main factors behind rapid wage growth were general economic growth, declining unemployment and an increasingly pronounced shortage of qualified labour force.
Wage growth diverged in private and public sectors – private companies increased gross wages by 4.9% compared with the same year ago, whereas public sector employees enjoyed only 4.2% growth. Annual wage growth was most rapid in certain branches of the service sector, such as information and communication (7.8%), public administration and defence (7.1%), construction (6.9%), accommodation and food services (6.7%).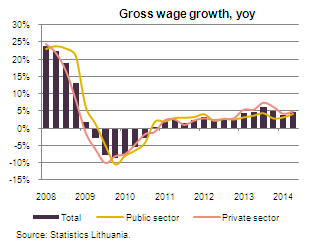 Outlook
Despite the geopolitical tensions, we expect the situation in the labour market to continue improving in the coming quarters. Unemployment will continue to decline on the back of growing employment and shrinking labour force. In the second half of this year and next year annual employment growth, however, is likely to be weaker due to the embargo imposed by Russia and likely layoffs in the transport and food manufacturing sectors. But current sanctions are unlikely to have a significant effect on the labour market and wage growth. Due to an ever-more-visible lack of skilled labour it will become harder and harder to fill vacancies, thus wages will continue to grow rapidly. Inflation will remain low this year, which will lead to real wages growing somewhat faster than previously expected.