aA
What a difference one ship makes in combination with shifts in production in less than 3 years. It took a bit longer to get from complete reliance on a Russian-controlled energy-monopoly to a competitive market with increased security and interconnectivity. However, the presence of the Independence LNG floating facility in Klaipėda and the return of the USA as an energy independent country and exporter changed dramatically the supply and prices in the gas market.
Sekite svarbiausias naujienas socialiniuose tinkluose!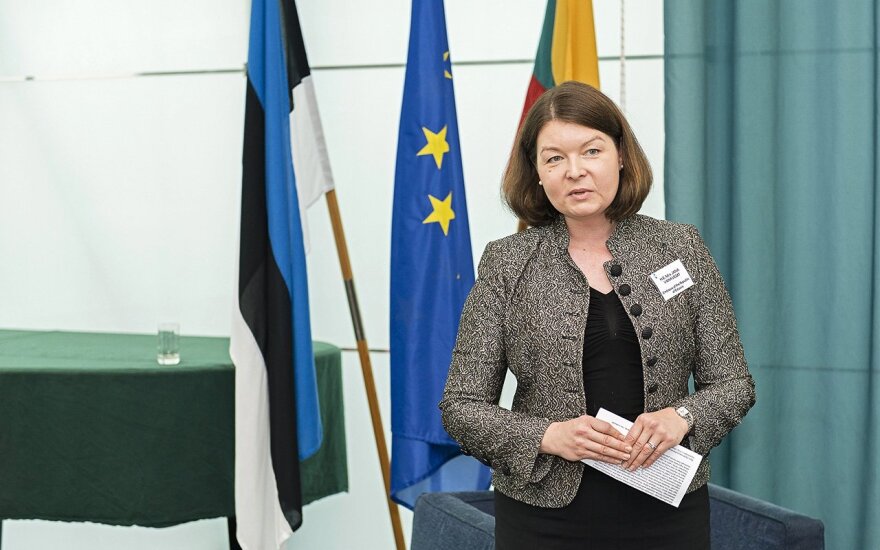 A gas market seminar took place at the Estonian Embassy in Vilnius on October 11 which looked at these issues in detail. According the Estonian Ambassador to Lithuania, Jana Vanaveski, the gas market seminar was the largest public event in Lithuania as part of the present Estonian EU Council Presidency. Estonian Embassy in Vilnius organised the seminar in partnership with the Estonian Chamber of Commerce and Primus law firm in Vilnius.
Lithuanian Energy Minister Žygimantas Vaičiūnas in his concluding remarks at the end of the seminar pointed out that the best possible pricing, rather than any regional differences should be the end goal. Minister Vaičiūnas said, ''The customer has to be the ultimate beneficiary of the gas market development.''
All speakers addressed in various ways how improved connections, competition and EU funding will ensure energy security by facilitating trans-border supply lines. These trans-national pipelines are benefiting consumers and ensure industry's access to lower cost gas and more reliable energy supplies.
Herkko Plit, CEO of Baltic Connector OY, the Finish operator of the gas connection between Estonia and Finland explained how that pipeline would reduce his home country's 100% dependence on a Russian gas monopoly. At a quarter of a billion Euros, largely subsidised by the EU, the undersea connection will ensure that gas will initially flow from Estonia to Finland.
In the very near future gas will also flow from Lithuania to Poland and there is a real possibility to supply Ukrainian markets in years to come. During the panel discussion the recent LNG truck supplies from Lithuania to Poland were seen as a mere intermediary step as the completion of a pipeline between the two neighbouring countries. Again, this link will ensure security and diversification of supply.
Speakers explained that LNG gas, although at present not a low cost supply of gas on the market acts as a pricing ceiling (swing supplier) ensuring that there is a cap on the market price. Politics and security are always important components of energy supply and markets and the cooperation between the Baltic States and their EU neighbours are essential elements to achieve that. Given the present market mechanisms in each country, that is not always the case.
These differences in approach are precisely what Lithuanian Energy Minister Žygimantas Vaičiūnas had in mind in his closing remarks. The Minister proposed to look at these differences as opportunities to improve collaboration between the various market actors whilst paying attention to a functioning, cost efficient gas market to benefit all consumers.
Sekite svarbiausias naujienas socialiniuose tinkluose!