aA
Enterprise Lithuania and Bank of China Limited signed a cooperation memorandum providing Chinese and Lithuanian business communities with an opportunity to develop more efficient cooperation in the fields of trade, investments, services, and industry. The cooperation agreement was signed on 7 July, at the meeting of heads of government of the Central and Eastern European countries and China, held in Sophia, a press release from Enterprise Lithuania states.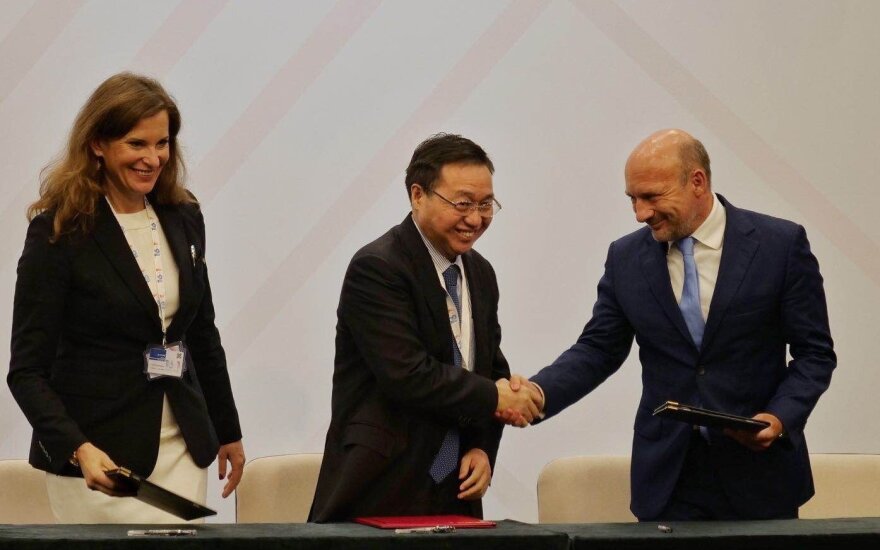 'We believe this cooperation agreement not only to strengthen trade relations between Lithuania and Chine but also to facilitate and accelerate finding potential business partners in one of the most promising export markets for our clients. Having a partner as the Bank of China Limited in China is a significant and timely stimulus in pursuit of creation of the most favourable conditions possible for Lithuanian exporters to enter the market, especially at the time, when the Chinese government is exerting substantial measures to attract foreign manufacturers and service providers', said Daina Kleponė, Managing Director of Enterprise Lithuania.
According to Ms. Kleponė, export of Lithuanian companies to China more than doubled in the last six years. Chinese needs and purchasing power keep growing, therefore they spend increasing amount of money for new and quality products and Lithuanian products can find their niche as well.
'The MOU between Bank of China and Enterprise Lithuania is a clear signal that the business communities of the two countries are paying serious attention to each other. It will serve as an effective framework and platform for both parties to explore mutually beneficial business opportunities in terms of trade, investment and tourism among other things. I am confident that this MOU will be a good start, and we are going to see more Lithuanian products in Chinese supermarkets, and more Chinese companies and tourists in Lithuania', said Chen Lin, Adviser for Economy and Commerce of the Chinese Embassy in Lithuania.
Chinese bank Bank of China Limited is one of the largest commercial banks in China providing a wide range of banking and financial services for private and business clients. The bank carries out business in China, Hong Kong, Macao, Taiwan, and other countries.
This year, Enterprise Lithuania is in particular active in building bonds of trade to China for Lithuanian business. In June, a permanent exposition 'Lithuanian National Trading House' was established in Ningbo at the initiative of Enterprise Lithuania, while seven Lithuanian companies took part in the exhibition of Eastern and Central European consumer goods China-CEEC Investment and Trade Expo. Nearly 20 Lithuanian companies will have their exhibition stands of textile, accessories, interior design elements and foodstuffs, agricultural products at the China International Import Expo to be organised for the first time on 5–10 November.
In 2017, Lithuania exported goods for EUR 180 million to China, while export of goods of Lithuanian origin amounted to nearly EUR 131 million, which is 40% more than in previous years. Export of furniture (29% of the total export), timber and wood products (22%), optics and measuring devices, surgical instruments (14%), machinery and mechanical equipment (7%) accounted for the major part of the export to China. According to the estimates of Enterprise Lithuania analysts, computers, electronics, optics, foodstuffs, paper and its products, various mechanical equipment remain being among the most promising export goods.
Sekite svarbiausias naujienas socialiniuose tinkluose!