aA
The evocative lanes and courtyards of Vilnius echo with the romances of the past, brought to life today through the infectious atmosphere, voices and clinking glasses of the restaurants and bars of the Old Town.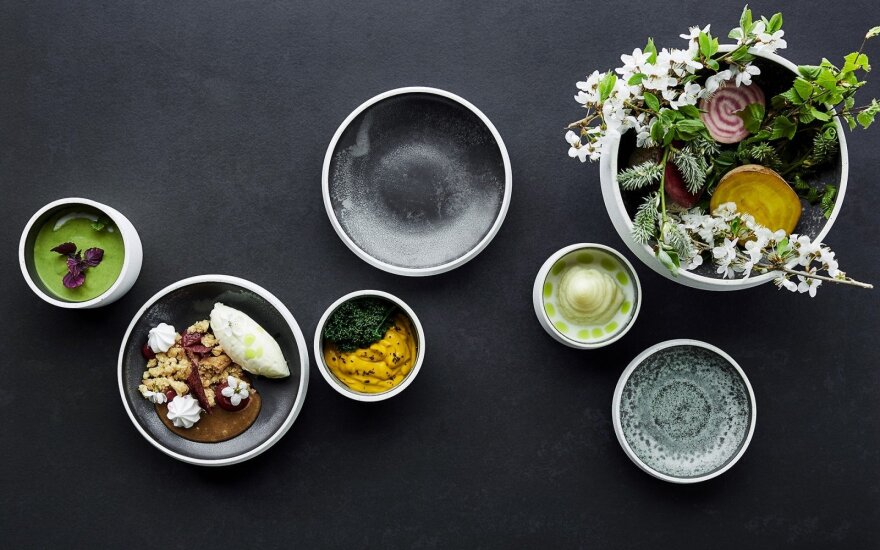 The famous exquisite balls – and their inevitablelove stories – of one of Lithuania's most sophisticated noble families, the Pacai, in particular mirrored the city's strategic position among empires.
It is here, more than 300 years later, that the restaurant 14 Horses – named after the highest number of horses permitted for a noble family – and the bar Sofija have their official opening in a wing of the Pacai Palace on July 6, welcoming locals and visitors to the city.
A fresh twist on local organic produce that is grown and reared on the restaurant's own farmland gives the seasonallychanging menu its character. Smart and friendly waitresses ferry the dishes, drinks and original cocktails across marble and parquet flooring amid the interior's abstract textures and patterns.
The name Sofija was also chosen for its glimpse into the past, named after Sofija Tyzenhauzaitė, the first Lithuanian woman writer and an extraordinary persona with intelligence and beauty who in this very building charmed two of the world's most powerful emperors.
It was here that Alexander I of Russia showered the charming Sofija with an almost scandalous amount of attention at a glamourous ball in 1812 – just as officers rushed in to warn of the approach of the invading French army. Two weeks later, Sofija found herself at a ball in the same palace dancing with Napoleon.
"In the restaurant and bar at the Pacai Palace we want to tell stories that happened here, to be inspired by them and not hide them," says one of the owners of the bar and brasserie, entrepreneur Niels Peter Pretzmann.
"In the same waythat we respect the heritage, we want to respect and work with nature in how we prepare the food. We want to create everything in a perfectly natural way."
The illustrious history of the palace,with its classical-style exterior and broad, spacious courtyard from which you can see the Baroque dome of the Church of the Holy Spirit, made a big impact while creating the concept, design and flavours of the restaurant and bar.
"It worked as an inspiration while creatingthese spaces for the people of Vilnius and for visitors, where you can take a journey back in time, while also giving the palace new life – and experimenting with different tastes and textures," Mr Pretzmann says.
- Sofija and 14 Horses can be found at the 5-star Hotel Pacai on Didžioji Street in Vilnius' Old Town.