aA
Several Lithuanian trucks are stuck at the Lithuanian-Belarusian border and the Latvian-Estonian border amid Russia's ban on the import of food products from the EU, the director of the Lithuanian State Food and Veterinary Service has informed on Friday.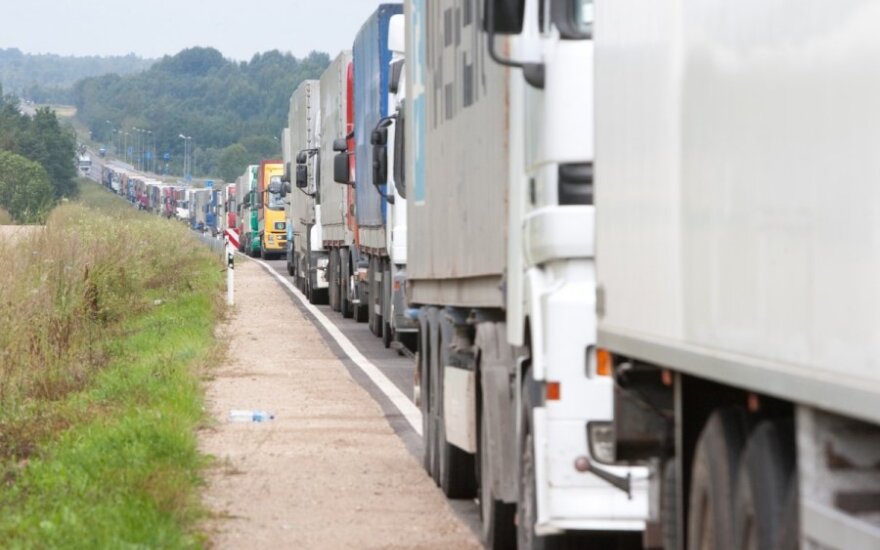 Trucks carrying meat and milk products are not allowed to cross into Russia even if they were loaded before the embargo was announced, Jonas Milius said.
"Some vehicles have been stopped at the border. We want them to be cleared because they left before the embargo and were in the queue," he told reporters.
Milius told BNS later in the day that the service had failed to persuade Russian officials to let the trucks pass through.
Two trucks with Biovela's meat products were not allowed to cross Lithuania's border with Belarus at the Medininkai border checkpoint and four trucks with dairy products from Pieno Žvaigždės were stopped by Estonian border guards, the director said.
"What is most surprising is that the Estonians did not let our trucks in, saying that the Russian would not allow the trucks pass through. I phoned them but to no avail," he told BNS.
Russia on Thursday imposed a "full embargo" on agricultural and food imports from the EU, US and some other Western countries in response to sanctions over its policies in Ukraine. The ban will last for one year.
Naujienų agentūros BNS informaciją skelbti, cituoti ar kitaip atgaminti visuomenės informavimo priemonėse bei interneto tinklalapiuose be raštiško UAB "BNS" sutikimo neleidžiama.