aA
Blockchain will transform digital services and Europe. It is acknowledged that Europe missed out on the Internet, however, the continent is determined not to miss out on the next revolutionary technology – blockchain. The European Union, with its digital Single Market of over 500 million citizens, is well placed to seize an opportunity to become the world leader of blockchain. Since Lithuania is regarded as a centre of excellence in blockchain, it is going to be playing a major role in those efforts. Blockchain Centre Vilnius is invited to shape this future and be a founding member of a new association, which is going to be putting blockchain technology at the heart of Europe's future.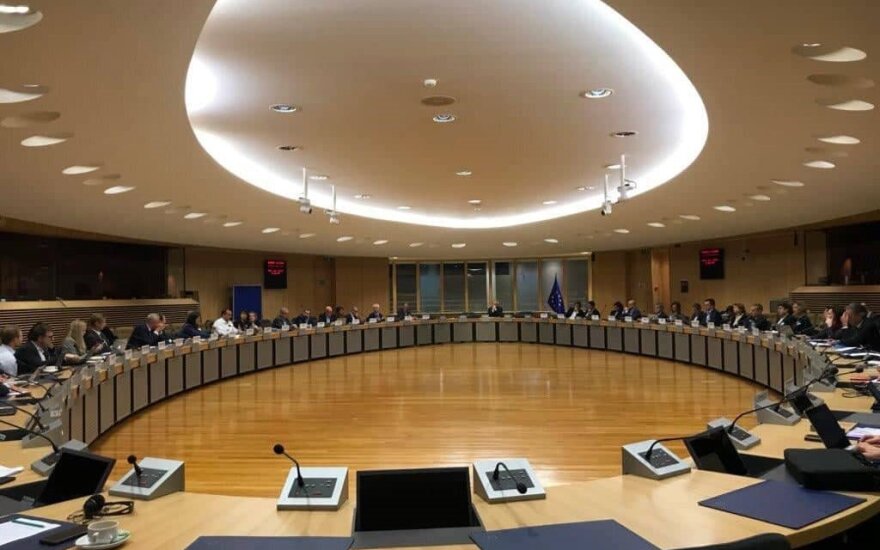 The roundtable discussiontook place on 20 November in Brussels where CEO of Blockchain Center Vilnius Eglė Nemeikštytė participated among the Commissioner for Digital Economy and Society, Mariya Gabriel and the Director-General for Communications Networks, Content and Technology, Roberto Viola. Business leaders from companies such as Bosch, Deutsche Bhan, Shell, Ripple, MAERSK, Airbus, Philips, Schneider Electric, Fujitsu, Accenture were present. The main issues that were discussed at the roundtable were governance, trust by design, compliance with existing legislation, communication with the citizens, sandboxes at the EU level, working across industries and interoperability. The Commissioner for Digital Economy and Society, Mariya Gabriel was convinced that it is clear that the European Union needs to continue such a dialogue. She said, "I am very happy that blockchain leaders and global enterprises support this initiative. Blockchain is a deeply transformative technology, it will have a major impact on business and public sectors globally." According to the Commissioner, the EU's ambitions are huge and Europe is determined to move fast. It is an opportunity for the EU to be a leader.
The EU missed out with the internet, but won't miss out this time Gabriel said. The Commissioner is convinced that the EU can be a leader in setting global standards, therefore the Member States and stakeholders should work closely together. According to Gabriel, the partnership has already been established, now the next step is the International Blockchain Association. The Commissioner emphasized that the EU must play to its strengths. This is why the EU needs to create an international organisation, which is open to all: public administrations, regulators, enterprises, and start-ups. We will build on the EU's strong tradition, which is public-private partnership.
Roberto Viola, the Director-General for Communications Networks, Content and Technology, of the European Commission is emphasised again that this time the EU does not want to miss out and it missed on the Internet and he added that the Artificial Intelligence (AI) and Blockchain will be the next generation of Internet.
CEO of the Blockchain Centre Vilnius Eglė Nemeikštytė said that Blockchain Centre Vilnius is very proud to be invited to be a founder of the International Blockchain Association alongside players in the global blockchain scene such as IOTA, Airbus, Phillips, SAP, and many others. During the roundtable discussion, she said that start-ups are also key players of the blockchain ecosystem and that is why it is so important to build a platform for all stakeholder to share best practices and exchange the challenges they face not only between themselves, but also with Member States. "I hope that this initiative will also focus on regulatory frameworks because many enterprises need legal certainty to move from proof of concepts to production," she said during the debate.
The next high-level meeting is going to take place in mid of December. Nemeikštytė concluded that the invitation to become a founder of the International Blockchain Association is a great possibility for Blockchain Centre Vilnius start-ups and partners to be heard and shape the EU and international blockchain scene. It is also recognition of what Blockchain Centre Vilnius has achieved so far and evaluation of our active work with EU institutions.