aA
Last week's Login Start Up in Vilnius Tech Park and other locations in town brought together investors and developers in Lithuania's booming start-up business. The country has outstanding IT infrastructure but also a successful ecosystem for start-up business. Judging by the large international presence, word is spreading fast.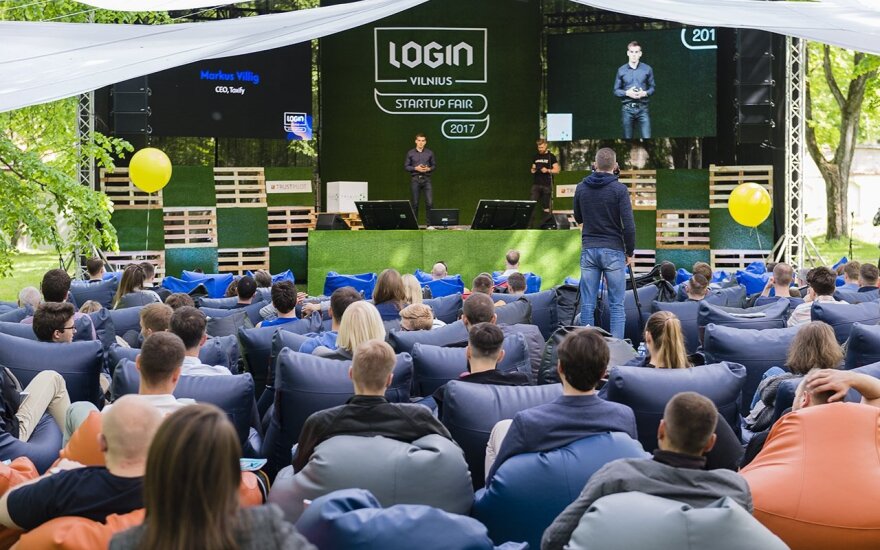 An R&D tax deduction that is worth three times the investment is a real sweetener, combined with one of lowest business tax environments in the EU, and low cost rental, as are the highly educated English-speaking people working in an industry that employs close to 30,000 IT specialists.
This favourable environment brought investors and specialist from as far afield as the United States, Israel and several Western European countries. They praised the growing feel-good economy and the burgeoning IT environment, enhanced by funding and support from various government agencies.
Don Ritzen of Rockstart, a Dutch accelerator, praised Invest in Lithuania, the government agency for the way it supports foreign business that want to invest in Lithuania. He pointed out the coordinated approach and an initiative such as the Vilnius Tech Park as ideal support vehicles to tap into specialists and developers, an educated English-speaking workforce and the top-level digital infrastructure.
Mr Ritzen has been coming to Vilnius for years and his organisation has invested in 3 Lithuanian start-ups. He said, ''Low salaries, particularly in comparison to the astronomical level in Silicon Valley are one of the assets, but companies need to expand and conquer foreign markets as soon as possible.''
We met with several investors at a Flanders Investment and Trade (FIT) sponsored luncheon event. FIT opened an office last year in Vilnius and sees plenty of opportunities for Lithuanian companies in Western Europe. Flanders has a large number of mindboggling success stories particularly in Cyber Security and FinTech.
However, most major financial markets are located in Western Europe, New York, Tokyo and increasingly Singapore. Wim Sohier, a FIT specialist based in Silicon Valley pointed out that Flanders provides an ideal basis for Lithuanian FinTech and other IT companies to expand and access markets. As a government agency, they are an enabler between funding, free incubation space and access to target markets.
Mr. Sohier praised the entrepreneurial spirit of Lithuanians. That sentiment was echoed by Omar Mahout, a former technology entrepreneur, and widely published technology author, he is a leading authority on technology marketing and innovation and now Professor of Entrepreneurship at Antwerp Management School in Belgium.
Mr Mahout, the author of 'Lean Pricing: Pricing Strategies for Startups', gave a master class on that very same subject in Vilnius Tech Park last week. Very high-level and to the point the class was a real eye opener for Lithuanian IT marketing specialists. Those that were lucky enough to sign up got the insights of a master in the field, yet another benefit for those attending the Login Start-Up.
We spoke to Omar Mohout after that class. He admires the Lithuanian Start Up scene for its infrastructure, skill base and entrepreneurial spirit. The link from idea to action is much shorter in Lithuania than elsewhere. That is, in his view, a major strength. The flexibility and low cost environment allow for these important start-up elements to move forward faster. Mr Mahout said, ''Taking risk is an important element in this industry, it is a large part of the success.'' ''In more mature markets, there is often an aversion to risk-taking, the fear and stigma of failure is often too large'', according to Professor Mahout.
However, as companies move up they need to have a base closer to markets. Omar Mahout says, ''Gent and Leuven in the Flemish region are hotbeds with close cooperation between academic, government and the IT industry.'' He added, ''Flanders is just 2 hours or less away from London, Paris and Amsterdam, a major connection to very large markets, without the impediment of the high costs in these cities.''
Mr. Mahout's most recent book 'From Idea to Product/Market Fit', deals with that very subject. It is good to have the Lithuanian ease and low start-up cost and company registration. That combined with the low cost access to high profile skills environment was a recurring theme to explain the booming start-up scene in Lithuania. Still the products and ideas need that market fit.
Technologies developed in Lithuania need to roll out across the rest of Europe and the world. It is essential that developers understand that accessing markets require a similar effort. Those that provide easier access and scalability should be high on that target list.