The three largest banks operating in Lithuania - SEB bank, Swedbank and DNB bank - have very solid capital buffers and assess risks conservatively enough. This became clear after the European Central Bank (ECB), in cooperation with the Bank of Lithuania, inspected the asset quality of the three commercial banks and performed stress testing, the country's central bank said in a report on 26 October.
"The results of this first comprehensive assessment, carried out at such a large scale and at the same time across Europe according to common rules, have shown that the financial health of the banks operating in Lithuania, which make up more than 70 percent of the whole country's banking system, is excellent and that they, with a large reserve, carry out supervision requirements: they have sufficient capital and quality assets to cover liabilities," says Ingrida Šimonytė, deputy chair of the Board of the Bank of Lithuania.
According to Šimonytė, the ECB-initiated assessment was carried out to provide maximum transparency prior to the start of the activities of the Single Supervisory Mechanism in November this year, when the ECB will take over direct supervision of major euro zone banks. During the comprehensive assessment, the asset quality of 130 banks across Europe was assessed and through stress testing their resilience to adverse shocks was tested.
Under the agreement of the Bank of Lithuania and the ECB, Lithuania, together with 18 other euro area countries, has participated in the comprehensive assessment of banks. By joining the euro zone next January, Lithuania will also join the Single Supervisory Mechanism and the supervision of the three largest banks registered in Lithuania will fall under the direct responsibility of the ECB.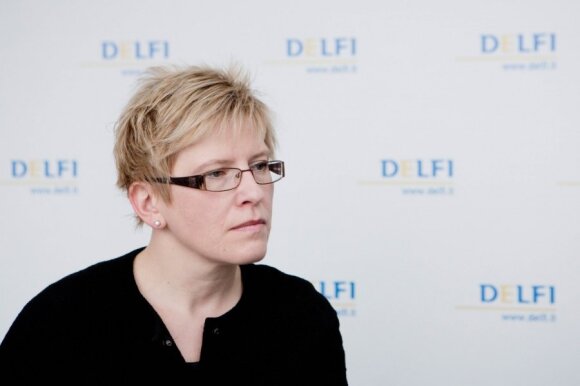 © DELFI / Valdas Kopūstas
During the review of the quality of the Lithuanian banking assets, the assets of the banks were very thoroughly inspected and almost no changes in value were established. This means that accounting at banks is done conservatively and risks are assessed comprehensively and correctly.
Having assessed the assets of the inspected banks, it was ascertained that their capital adequacy ratios at the beginning of this year significantly exceeded the minimum 8 percent requirement: SEB bank's capital adequacy ratio amounted to 14.87 percent, Swedbank's, to 22.39 percent and DNB bank's, 16.34 percent.
Stress testing also revealed that banks would be able to withstand significant shocks. Even in the adverse scenario the banks' capital adequacy ratios would exceed by more than two times the required minimum capital adequacy ratio.
The Bank of Lithuania regularly performs stress testing of banks operating in Lithuania and publicly announces the results in the Financial Stability Review. The newest data shows that all of the banks operating in Lithuania comply, with a reserve, with the capital adequacy requirements, while Lithuania's financial system is well-prepared to withstand adverse shocks.

It is forbidden to copy the text of this publication without a written permission from ELTA.