Petrol prices continue to rise in Lithuania even as oil prices fall, leading to a call for an investigation into the petrol station market and for the possible introduction of fuel price regulations.
At a press conference held in the Seimas (parliament) on Monday, Seimas member Stasys Brundza said petrol stations in Lithuania earn several times the margins they do in other Western countries. He suggested regulating petrol stations' margins and investigating their price-making policies as well as suggesting that fuel pricing regulations needed to be introduced.
Petrol prices in Lithuania are still the most expensive in the Baltic states and prices are set to increase in the coming weeks. Orlen Lietuva has been raising its wholesale petrol prices since last Thursday, though oil prices are falling.
Since Thursday, for example, the Mažeikiai oil refinery has raised petrol prices by two cents – from 96 to 98 cents. Though petrol sales in Lithuania are projected to fall, Orlen Lietuva claims to be playing according to the rules of the international market.
Some petrol stations have already raised petrol prices, which are now €1.06 per litre on average. Petrol in Lithuania is so expensive that even deputy ministers have been seen waiting in line at the petrol stations with the lowest prices.
In the meantime, wholesale diesel prices have fallen by 11 cents over the past month, which 3 of those cents dropping since last Thursday. The graphs for petrol and diesel in Lithuania are complete opposites. Orlen Lietuva representatives, however, see nothing wrong with this.
"World petrol and diesel prices have become very different. We are not a closed market, we are members of the international market," Orlen Lietuva representative Mindaugas Linkaitis told lrytas.lt.
According to Brundza, petrol stations have an excessive margin when selling diesel as well. "The National Commission for Energy Control and Prices should investigate this," he said.
Though petrol prices in Lithuania are rising, international oil prices are falling to new lows. On Monday, Asian oil prices plummeted. WTI-type crude oil sale prices for January fell by 16 cents to $35.46 USD a barrel.
Brent crude oil prices fell below the $38 USD mark for the first time since December of 2008. Urals crude oil, of the type refined by Orlen Lietuva, has also experienced price drops.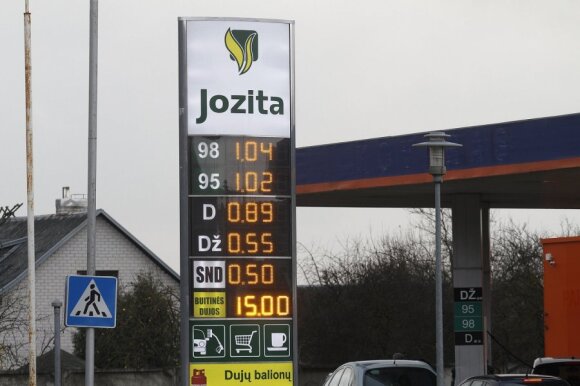 © DELFI (R. Achmedovo nuotr.)
At the press conference, Deputy Minister of Agriculture Vilius Martuševičius admitted that he has to look for cheaper petrol. He recounted waiting in line with other drivers at Jozita, a petrol station selling petrol at the lowest prices available.
"I drive from Palanga to Vilnius, so this is important to me. I spend 15 minutes waiting in line at that petrol station," the deputy minister admitted.