aA
Andrius Mikalauskas has become the permanent CEO of the e-grocery business Barbora in Lithuania and Radas, the company that owns Barbora in the Baltics. He had held the position on an interim basis since February this year. The board of Radas has also been renewed, CFO of Maxima Grupė Vitalij Rakovski was elected as the chairman of the board, reveals Maxima Group.
Sekite svarbiausias naujienas socialiniuose tinkluose!
"We think Andrius Mikalauskas' e-commerce experience and achieved good results at Barbora will help the company to continue growing successfully. At the stage of Barbora's rapid expansion in the Baltics, we've also strengthened the board of Radas, the company that owns Barbora. The chairman is now Vitalij Rakovski, an experienced CFO who has implemented a number of large-scale international projects. We believe that his skills will be useful in planning Barbora's growth," said Jolanta Bivainytė, the CEO of Maxima Grupė.
Andrius Mikalauskas worked as CFO at Barbora starting in September 2017, in February 2018 he was appointed as a member of the board of Radas. Prior to joining the company, he had been working at the consulting firm Ernst&Young for more than six years.
"Last year Barbora started operating in Latvia and Estonia, also expanded in the major Lithuanian cities of Kaunas and Klaipėda. Focusing on customers' expectations, this year we've also begun providing services in the Curonian Spit, Birštonas, Prienai, and Jonava. Further expansion, improving service quality and customer experience, and implementing solutions that are innovative and environmentally friendly will remain the most important priorities of Barbora," Andrius Mikalauskas said.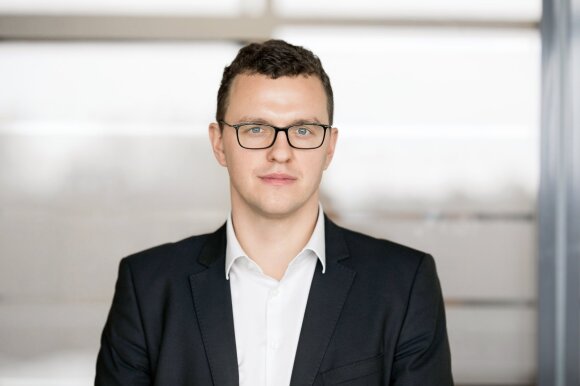 © Organizacijos nuotr.
The Board of Radas now will be comprised of five members: together with V. Rakovski it was joined by Andrius Jurgelevičius, the head of commerce at Barbora in Lithuania. In addition to the new members, it also includes A. Mikalauskas, Barbora's head of operations Sabina Bačiulienė, and the company's head of IT Karolis Lesickas.
In 2018, sales of goods through e-commerce channel of Barbora grew by almost 50 percent in the Baltics, it was mainly affected by the company's expansion.

It is forbidden to copy the text of this publication without a written permission from DELFI.
Sekite svarbiausias naujienas socialiniuose tinkluose!