aA
The story of Stanislaw Skaczewski (Lith. Stanislav Skaševskis) (†1579), coming from the gentry and having moved to Samogitia from Masuria in Poland (Szczytno, Zakročin) in the first half of the 16th century, and that of his family is sufficient proof that emigrants from the Polish gentry were well-adjusted to the life in GDL. Furthermore, it adds vivid details to the development of Reformation process in this region and sheds light on the influence of clientele relations in Evangelical movement.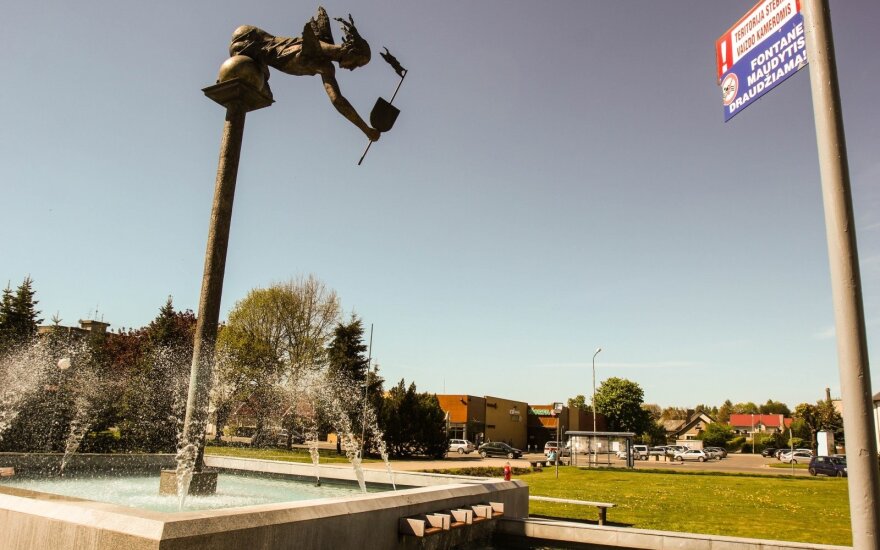 Stanislaw Skaczewski was a well-educated person, quite likely having done some university studies. His decision to move to Samogitia was based on practical motives, such as career opportunities and the prospect of improving his financial position. Religious motives were also important. He is believed to have supported the Reformation even prior to arriving in Samogitia; shortly afterwards he received support from the GDL noblemen, who were the first advocates of the Reformation. Samogitia soon became his second motherland. Stanislaw Skaczewski married twice, both times to daughters of Evangelical parents (with Dorota Laganovska, the first son Jan (Lith. Jonas) was born); after her death he married Jadviga Klemenska and had a daughter Katrina. In different years, he served as starosta (Lith. seniūnas) of three holdings, those of Kražiai, Batakiai and Jurbarkas. In time, Stanislaw Skaczewski accumulated substantial wealth. The residence founded in Kurtuvėnai is proof of his determination to stay in Samogitia. The manor of Kurtuvėnai and the small town adjacent to it became an important communication centre of Beržėnai rural district (Lith.valsčius). All this is reflected in the map of GDL, published in 1613, in which the aforementioned sites were cartographically recorded for the first time.
Cultural background and the facts recorded reveal a humanistic world-outlook and a way of life, characteristic of the wealthy Samogitian gentry in the second half of the 16th century. Stanislaw Skaczewski had excellent Polish writing skills. He also sent letters in Latin to Albrect, Duke of Prussia. For example, there is mention of the word 'book' in the letter written in Kražiai, dated 3 November 1557. Both his children were literate. The messages found in the letters about the clockmaker Leonard French and Valentinas Pokaita, a goldsmith from Kražiai, are directly related to art patronage. No doubt, Stanislaw Skaczewski liked living in Samogitia and settled here permanently. His children never even thought of going back to Poland.
Stanislaw Skaczewski's relationship with GDL noblemen and the Duke of Prussia, built on the basis of religious beliefs, made it easier for him to adjust to the Lithuanian way of life and join the ruling elite of the Samogitian region. His main supporters were the most prominent advocates of Evangelism in GDL. Among them were GDL pocillator Stanisław Kieżgajło (Lith.Stanislovas Kęsgaila) (until 1554), Starosta of Samogitia Hieronim Chodkiewicz (Lith.Jeronimas Chodkevičius) (until 1558/1559); Chancellor of GDL Mikaloj Radziwill 'the Black' (until 1565), his cousin Radziwill 'the Red' (until his death in 1579). The first facts describing Stanislaw Skaczewski's activities in Samogitia to be found in historic sources are related to the support provided by Stanisław Kieżgajło. From him, the Masurian bought the Kurtuvėnai manor; upon Stanisław Kieżgajło's appointment, Stanislaw Skaczewski became a local manager (Lith.vietininkas) of Kražiai, which belonged to Stanisław Kieżgajło and the profit of which amounted to about 280 groat-coins (kapų grašiai). Stanislaw Skaczewski was granted all this support because of his expressed pro-Reformation views. Up until 1554, like his patron, he was an advocate of Lutheranism. The correspondence he established with Albrecht is also believed to have been spurred on by the relationship between Stanisław Kieżgajło and the Duke of Prussia. According to the number of letters sent (more than thirty), Stanislaw Skaczewski was one of the most frequent addressees of the Duke. The letters reflect a rather distinct pattern of Stanislaw Skaczewski's clientele behaviour. In all of them, assurance of dedication and service, regards on festive occasions, update on the events in Lithuania, intercession for the useful persons, is explicitly pronounced. In return, Stanislaw Skaczewski received from Albrecht both tangible gifts such as the wine shipments, and, more importantly, intercessions for certain noblemen and even the ruler.
After Hieronim Chodkiewicz († 1561) became Stanislaw Skaczewski's new patron, his position of a local manager (Lith. vietininkas) in Kražiai was extended. It was not by accident that the Duke of Prussia, writing letters about subordinates, trade freedoms or Livonian matters (1556–1557), simultaneously mentioned two addressees: Starosta of Samogitia or Stanislaw Skaczewski. Thanks to Hieronim Chodkiewicz, Stanislaw Skaczewski was granted the management of Batakiai elderate (seniūnija) in 1554, and in 1559 an even more profitable elderate of Jurbarkas was trusted to him. It can also be presumed that upon Hieronim Chodkiewicz's recommendation to the nobleman Mikaloj Radziwill 'the Black', the then Voivode of Vilnius, the latter helped Stanislaw Skaczewski being granted the holding in the Beržėnai rural district (Lith. valsčius). Eventually, Stanislaw Skaczewski was considered as belonging to the Radziwill group. The proof of that can be found in his intermarrying the Kamenski and Guzhevski families and his relationship with other Samogitian gentry, close to the nobleman.
Confession-related motives also contributed to the support provided to Stanislaw Skaczewski by the aforementioned noblemen and Duke of Prussia. Stanislaw Skaczewski was among the first members of Samogitian elite, to support the Evangelical community during the first four decades of Reformation. By the year 1557, he had made his determination with regard to confessional beliefs. Having expropriated the land of Kurtuvėnai Catholic church, Stanislaw Skaczewski transferred the church to an Evangelical priest. Within the holdings owned by him, e.g., Kražiai, he reduced the benefits to Catholic priests. The Evangelical Reformed church in Kražiai was active up until his death. In the will drawn up in 1576, Stanislaw Skaczewski expressed a wish to be buried in the Church, which during its functioning had been well provided for by the owner of the manor.
His children, Jan and Katrina, were known to be active proponents of Evangelism. Both of them entered into a marriage relationship with the representatives of the same confession. In 1579, Jan Skaczewski married Elżbieta Ostrorogska, and after her death Jadviga Grushevsky, coming from a famous Evangelical family in Samogitia. Jadviga Grushevsky, as part of Mikaloj 'the Black' environment, was appointed in 1572 a local manager (Lith.vietininkas) in Šiauliai, whereas Kelmė, as a result of his efforts, became one of the leading centres of Evangelical Reformers in Samogitia. Katrina Skaczewska got married to Mikaloj Karpis, an active Evangelist, a Volkoviski chamberlain (Lat.succanerarius). Three sons and three daughters were in wedlock. Both Jan Skaczewski and his sister Katrina followed those proponents of Reformation who set their peasants serfs free, both individually and en masse. Katrina, having survived her late husband for more than twenty years, was particularly active in Evangelical life in the late 16th –early 17th centuries. Her activities reveal not merely individual initiatives of religious character, but also a broader plan of action. In this respect, Katrina could be compared to such Samogitian Reformers acknowledged by historians as the sisters Mitkevičiūtės: Sofija Vnučkiene and Darata Šemetiene. Katrina Skaczewska-Karpienė pursued a conscious policy of marrying her children into Evangelical families, took good care of the Kurtuvenai church. She was also concerned with the salvation of 'devout persons' souls, provision of the Holy Sacrament and the Sacrament of Matrimony. She also believed that 'infants should receive Holy Baptism'. As a patron of the church, she sought to bring the Evangelical truths to the believers in such a way that they are understood to local peasants. As a result, the Kurtuvenai church priest (the early 17th century) spoke Lithuanian and preached in this language. The Kurtuvėnai Evangelican church was active until 1631, when Katrina had to move the house of worship into the Krasnogališkiai holding. She was buried in the church established here. Even after her death, Kotryna's sons, Petras and Steponas, complied with the mother's obligations to the Calvinist Church. Evangelical faith in this region survived almost for 60 years. It was only in 1697 that local Catholic gentry set fire to the church and destroyed it.
The activities launched by Stanislaw Skaczewski, were not in vain. The work was successfully continued by his daughter, who kept providing proper conditions for Protestant believers in her father's holdings for nearly a century. The Protestant world-outlook of the Polish émigré Stanislaw Skaczewski and his family is best reflected by the instances of economically and culturally beneficial communication with the Prussian elite and influential GDL noblemen advocating Protestant, cases of setting their peasants free, the activities of Evangelical church in the family holdings as well as sermons delivered in Lithuanian in the early 17th century.