"Impeachment is one of the potential outcomes. However what I am most concerned with is that this person would no longer be in Seimas management and among the vice Speakers of Seimas," Seimas Speaker Viktoras Pranckietis stated, urging Social Democrat Mindaugas Bastys to resign from the position of Seimas vice Speaker. It has been revealed that M. Bastys has been barred from accessing classified information due to suspicious links with Russia. Details potentially linking Bastys with Russian businesses, the criminal world and pro-Kremlin journalists have been discovered by the State Security Department (VSD), which reported that the member of Seimas may not be independent and is potentially vulnerable. Social Democrat Seimas group prefect Irena Šiaulienė has stated she believes that M. Bastys will make the right decision regarding the possibility of remaining in Seimas. The topic was discussed with Seimas Speaker V. Pranckietis, head of the VSD Darius Jauniškis and Social Democrat Seimas group prefect Irena Šiauliene during the talk show Dėmesio Centre at LRT.lt on March 9.
Regarding his decision to call for Mindaugas Bastys to resign, Seimas Speaker V. Pranckietis explains that while the reports he has received do not directly state that the Social Democrat is representing Russian interest in Russia, but in the end concerning links to Russia have been discovered and the parliamentarian was barred from receiving access to classified information, without which he would be unable to fully perform his duties.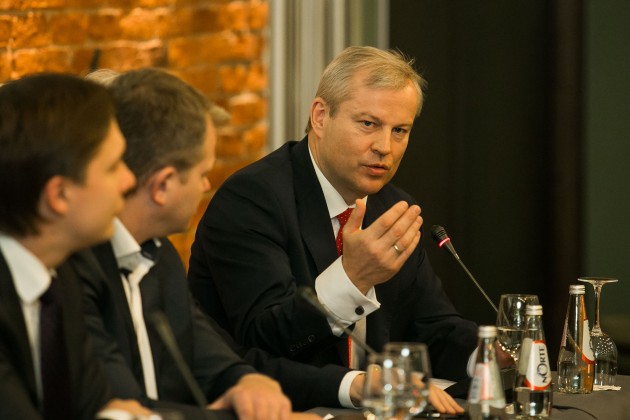 The head of the VSD which compiled the report in question was rather reticent and unwilling to comment on the proceedings, only noting that there have been incriminating details discovered , leading to certain doubts, which has all been presented in the agency's report to relevant government officials.
Information regarding the contents of the VSD report appears to have reached the BNS news service, which is quoted to have pointed out M. Bastys' actions in support of the Russian Gazprom corporation and interactions with individuals known to work in support of the interests of the Russian Rosatom corporation which is constructing the Astravyets nuclear power plant. Furthermore the politician was found to have suspicious links to individuals such as former KGB officer Piotr Vojeika, journalist Ernestas Mackevičius, who distributes disinformation on Lithuania on the RTR TV channel and formerly senior Kaunas mafia member Saturnas Dubinikas, who is known to represent Russian and Belarussian interests in strategic Lithuanian industrial sectors. V. Pranckietis admits that the claims presented by BNS are in line with the VSD report he has received.
Regarding potential actions to take, V. Pranckietis notes that one of the potential steps is impeachment and that he is "most concerned with ensuring that this man would no longer be in Seimas management and among the Seimas vice Speakers." Nevertheless he notes that it is worth giving the Social Democrat Seimas group and M. Bastys himself several days to respond to the current situation.
While journalists have been unable to get in contact with the implicated politician, I. Šiaulienė, the Social Democrat Seimas group prefect was present to comment and explained that on Friday morning there will be a group meeting where the situation will be discussed. With this and Bastys meeting the head of VSD on Friday morning as well, decisions are to then be made. As far as responses are concerned, she notes that at the very least his duties should be suspended and that if need be, Bastys, who is now in his third term in Seimas, will take adequate steps to take responsibility.
While Seimas Speaker Pranckietis states that the resignation he has called for is a matter of personal decision for the individual in question, but notes it would serve the prestige of Seimas, as that of the Social Democrat party.
In recent days accusations of sexual harassment have been levied against member of Seimas Kęstutis Pūkas in his selection of an assistant. The matter was also touched upon during the show, with the Seimas Speaker noting that analogously the accused K. Pūkas should resign, with the matter once again related to upholding the prestige of the Seimas.