aA
Lithuania has not yet heard the last about the riches of the head of the Lithuanian National Opera and Ballet Theatre (LNOBT) Gintautas Kėvišas, which are currently under investigation by the VMI. He not only lives in Laurai quarter, one of the most prestigious in Lithuania, but he also has a plot of land in a Spanish resort in a closed quarter where luxurious villas are being built one after another for the wealthy.
The town of Altea is located in the Spanish province of Alicante. The little town is held to be one of the most scenic and impressive towns on the Costa Blanca. Tourist reviews state that the town attracts visitors with its fantastic beaches and incredible environment. It is said that Altea is popular among artists, writers and musicians. The town has many romantic narrow streets, numerous art galleries and stores. This is also where G. Kėvišas is constructing his own luxurious oasis.
A plot of land in a well-guarded wealthy quarter

Based on Spanish land registry data obtained by Delfi, half of the plot of land is registered in the name of G. Kėvišas and his wife Rūtelė Kėvišienė. The other half belongs to several other Lithuanians. Based on the data, the plot of land was purchased on May 9, 2012, with it being entered into the register on June 5, 2012.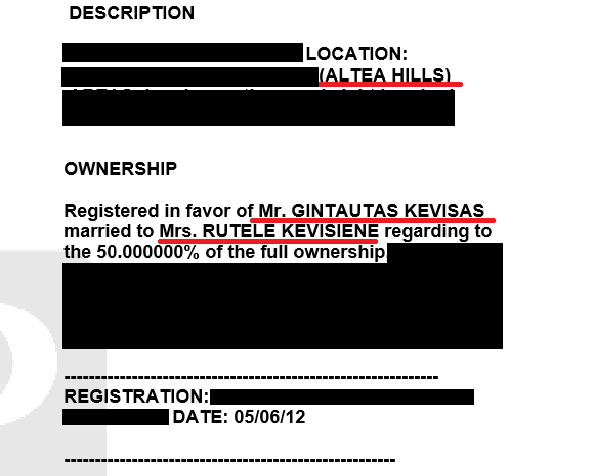 The data also suggests the plot is placed in the Altea Hills quarter which is presented online as one of luxurious, unique and impressive houses for the wealthy and famous. The quarter is walled off and patrolled by security 24 hours a day. Owners, tenants and guests can only access the quarter through a security gate. Most of the properties are used by specifically their owners, with only a handful available for rent creating a high level of privacy, suitable for those who wish for it.
Plot purchased from G. Vainauskas

G. Kėvišas declared in his 2012 declaration to the Chief Official Ethics Commission (VTEK) that the property was purchased from news media magnate, Lietuvos Rytas owner Gedvydas Vainauskas. Of course the VTEK declaration does not specify what country the property is on. The deal is dated similarly to the date of the property being purchased – May 8, 2012. The transaction was valued at 252 054 euro.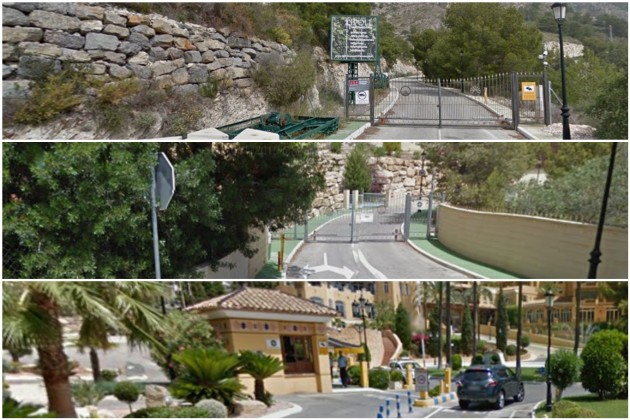 G. Kėvišas has confirmed to Delfi that the property was purchased from G. Vainauskas.
Kėvišas' monthly wage in Q3 2016, based on data presented by the theatre itself, was 2322 euro on paper. The theatre's head explains he undertook further activities for further earnings.
Impressive pricing

Based on current online advertisements, the prices for constructing a new villa in the Altea Hills quarter is, reaching into the millions. One of the most expensive currently reaches 3.2 million euro, while most exceed the one million euro mark and only a few being below that.
Based on G. Kėvišas' declaration to the VTEK, the plot of land itself cost him 252,054 euro.
G. Kėvišas confirmed to journalists that he has a plot of land in Spain, but was unwilling to answer further questions and declared that he would take no further questions before hanging up when journalists inquired on further details on the property, such as his loan and the funds that were used to purchase the property.
Vast wealth in Lithuania

Delfi has already written how after fourteen years of work in the theatre and later in the philharmonic and always lingering in state service, G. Kėvišas and his family have managed to accrue vast wealth.
The wealth is impressive – a plot of land purchased in 2004 and a house in one of the most prestigious Lithuanian quarters – Laurai quarter, a guarded and especially private villa on the shore of lake Bebrusai in Molėtai region, a flat in Vilnius worth 800 thousand litas according declarations, as well as G. Kėvišas parents' home he has gifted to his son. The luxurious plot of land in Spain adds to this list.
Of course the theatre head has further financial assets. There have been musings on the media that G. Kėvišas' house in Laurai quarter was built at the same time as the scandalous stage reconstruction was undertaken in the Opera and Ballet Theatre. A document from the Construction Inspection regarding the conclusion of construction works in 2009 confirms that the time of construction coincided with the major scandal.
In 2007 G. Kėvišas declared he took a 3 million litas loan from the bank, something well excess of his total wealth. By 2010 (practically in two years) he returned almost 1.3 million litas of the loan, while the family's property remained in the millions and almost the same as prior to taking the loan. The theatre head's annual income should reach around 84 thousand litas, while his wife is a music teacher and they have not declared any sale of property. True, there is a declared 600 thousand litas income from his son's company in 2010, but the loan repayment is still far larger. At the same year the theatre was shaken by a scandal on the reconstruction of its stage.
G. Kėvišas won the competition to lead the theatre for another five years in September 2016. The competition was moved ahead of schedule by half a year and was initiated by the previous government. Now the opposition has called to annul the competition, but according to the ministry no legal possibilities for this exist.
He also does not reveal what average extra income he receives from his son Martynas' company Riverside Music Limited, which won a public procurement competition from LNOBT and where Kėvišas declares to be doing contract work. He explains that the income from the theatre comprises a minority of his income, where his wage is a little over 2 thousand euro. He states that in 1992-1994 he worked in Monaco, leading an institution. In 2001-2002 he lived and worked in Monaco. However based on Kėvišas' old wealth declarations from his terms as Minister of Culture and member of Vilnius municipal council, it would appear that his wealth started rising much faster when he returned from Monaco and began working in the theatre. He has promised to release all his declarations later.
VMI begins its investigation

It has already been announced that the State Tax Inspection (VMI) has decided to open an investigation regarding G. Kėvišas' income.
The decision was made considering information available to VMI and in order to review information that has been released to the public, including G. Kėvišas' own comments. The head of the LNOBT has declared wealth and income, however the latest declarations are not public.
According to G. Kėvišas' VTEK declaration his loan increased even further over the past year, reaching 4.1 million euro (Albeit this could be a declaration fault because the declaration was up to 2015, the sum could actually be in litas. G. Kėvišas has refused to answer Delfi's questions on the loan and what currency it was in, so clarification was not possible". The loan was taken from Danske Bank, the General Director of the bank Gintautas Galvanauskas is G. Kėvišas' nearest neighbour in Laurai quarter. During a talk show in Info TV G. Kėvišas has admitted that two thirds of the loan are repaid.
The VTEK is also initiating a new investigation on G. Kėvišas in order to review whether he did not mix public and private interest in requesting the Vilnius municipality's support for two concerts by foreign performers in his theatre, organised by his son's company. The commission voted unanimously to open the investigation.
The prosecutors' investigation on potential waste of funds in the reconstruction of the LNOBT stage continues to this day.
Expressions of no confidence from Minister of Culture, Prime Minister and President

All highest ranking state officials have expressed a lack of confidence in G. Kėvišas. Minister of Culture Liana Ruokytė-Jonsson has called for him to resign due to a lack of confidence. This was due to the theatre's contracts made with Kėvišas' son's company. G. Kėvišas had removed himself from the process and the contracts were signed by his deputy, but the Public Procurement Service has concluded that his relinquishing of involvement was only done formally. The Special Investigation Service has declared that his actions do not count as prevention of corruption. G. Kėvišas has been warned for this.
Even after the minister called for his resignation, Kėvišas has chosen to not step back. The minister has also received support from Prime Minister Saulius Skvernelis, but G. Kėvišas has once more declared he sees no reason to do so.
President Dalia Grybauskaitė has expressed she has no confidence in the theatre's head. After her declaration G. Kėvišas stated he needs time to think and decide. He stated he would present his decision on Wednesday.